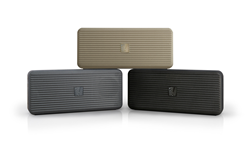 "We've come to expect high quality from Soundfreaq, but Pocket Kick even surpassed our lofty expectations." - iLounge
Los Angeles, CA (PRWEB) November 12, 2014
Soundfreaq, maker of the critically acclaimed line of wireless speakers, is proud to announce the company's ultra-portable Bluetooth speaker, Pocket Kick, has been selected as the "Best Portable Speaker" of 2014 by iLounge. According to iLounge, Pocket Kick "pushes the limits of a small speaker, setting a new standard for its pocket-sized shape." Pocket Kick is available in three finishes complementary to the new iPhone 6 and 6+ - black, gold and platinum - and is available for $99 on Amazon.com and Soundfreaq.com.
iLounge's Best of the Year Awards, judged from November 1, 2013 through November 1, 2014, recognizes the products and developers that most improved the way users enjoy their iPads, iPhones, and iPods.
"We've come to expect high quality from Soundfreaq, but Pocket Kick even surpassed our lofty expectations. A compact speaker with fantastic sound and a sharp design, the affordable, portable Pocket Kick earned our rare flat A rating," said Phil Dzikiy, iLounge Editor-in-Chief.
"We are honored Pocket Kick was chosen by iLounge for the Best of the Year Awards," said Matthew Paprocki, co-founder/creative director of Soundfreaq. "Our goal with Pocket Kick was to design the best sounding, most practical speaker that you can keep by your side to enjoy and share more music in your day. It's compact size and three finishes, make a great companion speaker for iPhone 6."
The ultra-compact speaker, which was released in July 2014, features a pair of custom engineered drivers and a passive radiator sandwiched between two full-metal, open air grills. Meticulously tuned, the design is optimized for airflow and projects full-frequency sound with lower frequencies kicked out the back. Pocket Kick is equipped with a rechargeable battery for up to 10 hours of playtime. It also has a built-in microphone, making it easy to take calls wirelessly.
Additionally, Soundfreaq's Sound Rise, a modern Bluetooth bedroom speaker and alarm clock that combines design, functionality and award-winning sound quality, was named a runner-up in the "Best Home Speaker" category. iLounge states that Sound Rise "shines as a compact, sharp-looking alarm clock with useful buttons and solid sound."
Sound Rise streams audio via Bluetooth and is equipped with a universal USB power port, allowing users to charge their smartphones. Sound Rise also offers dual alarms with weekday/weekend settings and gradually increasing volume, allowing users to wake up gently to the radio, music or alarm chime. An all-black version of Sound Rise is available for $69 at Target and Amazon.com. A taupe/wood version of Sound Rise is for $79 on and Amazon.com and Soundfreaq.com.
For more information on Soundfreaq's line of award-winning products, please go to http://www.soundfreaq.com. For press assets, please go to http://www.soundfreaq.com/press.
About Soundfreaq (http://www.soundfreaq.com)
Soundfreaq is a global co-op of craftsmen – designers and engineers – with deep expertise in consumer electronics and a passion for great sound. By working outside the limitations of a traditional corporate structure, Soundfreaq is able to develop products from the ground up that deliver premium sound for a wireless world and provide maximum value to consumers. All Soundfreaq speakers stream audio wirelessly, making every product compatible with today's and tomorrow's wireless devices. The company has been honored with multiple awards for its highly praised wireless speakers, including the "Mashable Choice" award in 2013, "Best in Show" from iLounge at CES 2012, 2013 and 2014 and "Gear of the Year" from WIRED Magazine in 2011. Twine International and LA-based creative incubator Goodhatch created Soundfreaq in November 2010.