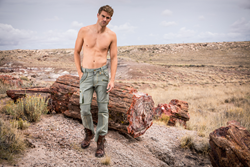 When the market is tough, innovation drives product.
Scottsdale, Arizona (PRWEB) November 13, 2014
WWD stated that the denim industry anticipates a "3rd Wave" of denim revival, but is still waiting for the right innovation; however, the time for revival is now, and Diego Milano is bringing unforeseen profit to the depreciating industry. Diego Milano is the new solution to the recent decline in denim sales. Their revolutionary and iconic designs have destroyed the standard of denim wear, and have pushed the denim market toward new trends that are going to last for generations to come. They are exactly what WWD is looking for as the "Next Big Thing"!
The denim market has recently seen a decline in profits due to a lack of creativity, a shortage of innovation, and an abundance of copied and overdone designs. Designers and fashion companies are well aware that they dictate trends and influence the consumer. However, since the trends have been so stagnate in the denim industry, buyers have had a hard time finding something new and exciting to expose to their customers; that is, until Diego Milano.
"When the market is tough, innovation drives product." Said Joe Dahan, founder of Joe's Jeans as quoted in WWD. Diego Milano is introducing a new side to denim that has not been done or seen before. Other wardrobe items are allowed to be bold and daring, but designers have not figured out the right balance with denim. They either take it too far or not far enough. Because DM hand dyes all their denim using unique colors and one-of-a-kind washes, all that is needed is a simple white tee and a pair of Diego Milano jeans to make a fashion statement.
Diego Milano is paving a new road for the industry, and the market is anxious to see a new rise in profits. DM's thought provoking innovation and knock out designs have flipped the denim industry from basic blue to bold and brilliant. Their unique styles and elements of the jeans are leading the denim industry in the right direction. All other designers now have a new standard of quality and creativity to engage with and look up to as they create their own revolutions and try to keep up with Diego Milano.
For updated news visit our Facebook page at https://www.facebook.com/diegomilanodenim.
Laura Cook
PR for Diego Milano
laura(at)diegomilano(dot)com
805-234-4864