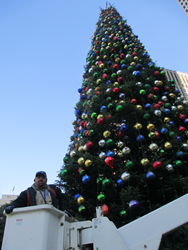 Houston, TX (PRWEB) November 13, 2014
Magically, the Monday after Thanksgiving, Santa Claus, his reindeer and holiday decorations will appear inside and outside downtown Houston office buildings. Earlier in November, workers test little white lights on oak trees in Hermann Square Park in preparation for the Mayor's Holiday Celebration and Tree Lighting on Friday, Dec. 5.
During this special season in November and December, celebrate the holidays with an Around Downtown Holiday Tour offered by Discover Houston Tours on Mondays, Wednesdays, Thursdays and Fridays from noon-3:30 p.m. Advance, paid reservations are required, and tour groups are limited to 14 people. The price is $30 per person.
Those on the tour will be able to shop at the Visitors Center in City Hall, at Forever 21 and the House of Blues in GreenStreet, and at The Shops at Houston Center. There will also be time for an optional, Dutch-treat snack at The Shops at Houston Center, Phoenicia Specialty Foods or The Lake House at Discovery Green.
These guided walking tours begin at noon inside the Visitors Center at City Hall, where there will be a 10-minute video about Houston. The tour guide will share some basic facts about the nation's fourth-largest city, then lead visitors outside for photo ops of Houston's famous high-rise skyline and the city's Holiday Tree, a tradition dating back to 1919.
Hop aboard the free Greenlink Connector and ride around downtown looking at holiday decorations. Exit at GreenStreet and walk through their three blocks of shopping, dining and entertainment, with stops inside Forever 21 and the House of Blues.
Continue with the guide inside the Four Seasons Hotel, and learn how the hotel is connected to 79 other buildings via the Downtown Houston Tunnel System. Walk over a sky bridge and enter The Shops at Houston Center, full of tempting gifts and 28 delicious places to eat.
After a rest stop, exit Houston Center and learn about the international delights at Phoenicia's Specialty Foods and the amenities at One Park Place, a 30-story luxury apartment house. Enter Discovery Green's 12-acre park and enjoy photo ops at "Wings of the City," an exhibition of nine bronze sculptures by famed Mexican artist Jorge Marín, an allee of oak trees adjoining The Grove restaurant, Jim Dine's "The House (Heart)," Doug Hollis's "Listening Vessels," and Jean Dubuffet's "Monument au Fantome." Enjoy an optional, Dutch-treat snack and beverage at The Lake House while watching the Dancing Waters and skaters on the ICE before re-boarding the Greenlink Connector and returning to the city's Holiday Tree.
All tours are also available for private groups, and advance pre-paid reservations are always required. For more information, visit http://www.discoverhoustontours.com/.
About the company:
In 1986, Discover Houston Tours introduced daily guided walking tours to Houston. To date, Discover Houston Tours has conducted more than 5,000 guided tours for over 60,000 visitors from around the world. Tour groups will finish their Houston tours with a new-found love and appreciation for Houston's unique style and way of life, and will be perfectly situated to further explore everything Houston has to offer. Discover Houston Tours' offices are located at 8181 Fannin St., Suite 2218, in Houston, Texas 77054. For more information, call 713-222-9255 or visit http://www.discoverhoustontours.com/.