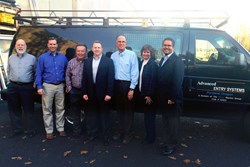 The acquisition strongly reinforces DORMA's installation and service presence throughout the United States.
(PRWEB) November 12, 2014
DORMA USA Inc. has once again expanded its U.S. presence by acquiring Advanced Entry Systems, one of the largest independent automatic door distributors in the Pacific Northwest. Portland, Oregon-headquartered Advanced Entry Systems enables DORMA to provide its customers with enhanced product solutions and services in the Northwest. The acquisition strongly reinforces DORMA's installation and service presence throughout the United States.
The service sector is continuing to grow throughout the country as buildings age and need to be retrofitted for new technologies that will enable increased access control and energy efficiency. The partnership with Advanced Entry Systems, coupled with the recent acquisition of security solutions provider Farpointe Data Inc., will allow DORMA to provide a broader spectrum of products and services to the customer.
"The addition of Advanced Entry Systems provides an excellent fit to our already superior service and installation group and will provide our customers with the optimum door technology and access solution capabilities," commented DORMA AME AREA President Reed Buettner. And continues, "The combination of Advanced Entry Systems and DORMA provides an excellent strategic and cultural fit. We are thrilled to have them join the DORMA team.
About Advanced Entry Systems
Providing service and installation for commercial and industrial customers for a quarter of a century Advanced Entry Systems, a division of "The Stoner Electric Group" is the largest automatic door sales and service company in the Pacific Northwest. Advanced Entry Systems services and repairs all brands of automatic and manual doors.
About DORMA
DORMA is a leading global manufacturer of premium access solutions and services that enable better buildings. A full range of products and services provides safety and security as well as convenience and comfort. DORMA features a design oriented portfolio of architectural door hardware, specialty hardware for glass door and wall applications, door automation systems including Crane Revolving Doors, and operable wall systems featuring Modernfold. Strategic partnerships with technology innovators RCI and Farpointe Data extend DORMA's portfolio of electromechanical access control products and systems, and strengthens the presence of both firms in the North American market. DORMA is an international market leader with innovative and inspiring design and technologies for access solutions and services.