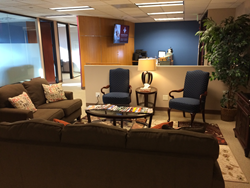 We are very excited to be joining the dynamic organization of Shadow Mountain. We have been in the behavioral health field for nearly 30 years, treating clients and their families for a variety of issues
Colorado Springs, CO (PRWEB) November 12, 2014
Shadow Mountain Behavioral Health provides medication management, psychological assessment and evaluation along with a spectrum of mental health modalities in both individual and group settings. Shadow Mountain Behavioral Health services focuses on providing supportive resources for clients with substance abuse issues. The team provides Extended Outpatient (EOP) services, Dual Diagnosis treatment, Pharmacogenetic testing, adult and adolescent services, alcohol/drug screening, Dialectical Behavior Therapy (DBT) groups, individual, group and family counseling. Shadow Mountain Behavioral Health also offers family therapy and couples counseling.
Shadow Mountain Behavioral Health's Clinical Director, William Hodson, and Joanne Hodson have been working in the region providing these services for over 25 years. Together they have built an extensive network in the mental health and substance abuse community. Bill has handpicked a team of experienced, licensed, doctorate level, masters' level and addiction professionals to serve their patients.
Bill is a Licensed Professional Counselor who has been working in the behavioral health field since 1986. Bill received his undergraduate degree in psychology from Colorado State University in 1985. He received his M.A. in Psychology-Marriage Family and Child Counseling from Chapman University in 1996. He is experienced in working with children, adolescents and adults in a variety of settings.
Bill and Joanne Hodson say, "We are very excited to be joining the dynamic organization of Shadow Mountain. We have been in the behavioral health field for nearly 30 years, treating clients and their families for a variety of issues. We love being part of a treatment system that offers a continuum of care for the clients and their families."
Joanne Hodson PMHNP-BC is a Board Certified Psychiatric Mental Health Nurse Practitioner, specializing in psychiatric care of patients 17 years of age and older. She has been a psychiatric nurse in Colorado since 1987 and has an array of experience in inpatient, residential and outpatient settings working with children, adolescents and adults. Joanne graduated from Loretta Heights School of Nursing in Denver, Colorado in 1987 with her BSN. She graduated from University of Colorado, Denver in 2007 with her MSN. She is a member of The American Nurses Association, as well as, The Colorado Nurses Association, and The Colorado Society of Clinical Specialists in Psychiatric Nursing. Joanne believes that trust and compassion are the building blocks for a successful relationship with her patients.
Shadow Mountain Behavioral Health has a diverse group of seasoned licensed counselors with wide-ranging approaches to help resolve mental health issues. The team at Shadow Mountain Behavioral Health understands the feeling of apprehension while determining if you or your loved one would benefit from treatment; along with the importance of the proper fit for a patient. Shadow Mountain is fully committed to find the right therapeutic solution for each client and their family.