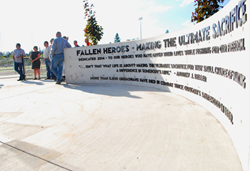 It is my opinion that these sorts of projects and our participation in them are what make Penhall Company what it is.
Anaheim, CA (PRWEB) November 12, 2014
"... Isn't that what life is about? Making the ultimate sacrifice for that small chance of making a difference in someone's life." Andrew Keller, US Army, Battalion, 503rd Infantry Regiment and 2008 South Ridge High School graduate said referencing one of his favorite quotes to both his mother and father as he explained his decision to become a soldier.
In late August during a gathering at the newly erected memorial plaza at South Ridge High in Andrew's Honor, Andrew's father Jeff Keller shared his undeniable desire to make a difference with the gracious volunteers and attendees. He told the moving story behind PFC Andrew J. Keller, U.S. Army who was KIA (Killed in Action) August 15, 2012.
Penhall Company's Account Manager, Matt Heckinger was approached by Greg Garske of Hoffman Construction located outside of Portland, Oregon - whom Penhall has partnered with numerous times. When asked of Matt how he decided to join the project, he humbly stated, "Greg indicated that he was involved in a project that needed some concrete cutting and funding was limited. He described the circumstances with Andrew Keller and the project."
Heckinger continued to share "The project was about 90% complete, but running out of money and time to meet the completion deadline. Not the sort of request that I am inclined to turn down. Contrary to what some business schools may teach, there is far more to this life than simply profit. When the story and situation was explained to our crews, they did not hesitate to step up and put in hours of labor at the end of their already long work days."
Matt added "To have Andrew's parents on site thanking the tradesmen for their efforts seemed a bit ironic. We gave little time and effort. They gave a son and he gave everything he could give. It is my opinion that these sorts of projects and our participation in them are what make Penhall Company what it is."
Penhall Company is proud to share their involvement and enthusiasm in the Oregon project alongside more than 100 contractors and vendors who donated labor and materials and more than 600 people that worked on the project oftentimes after their regular jobs and on weekends. The total cost of the project with the inclusion of the value of both materials and labor is estimated to be $900,000.
Penhall Company continually seeks the opportunity to actively be involved in community projects and positive causes.
This release is dedicated to Andrew J. Keller, U.S. Army KIA August 15, 2012.
About Penhall Company
Founded in 1957, Penhall Company is a market leader in concrete demolition, cutting, sawing, drilling, breaking, scanning and related concrete construction services. Serving customers nationwide with the newest fleet and equipment available, Penhall continually invests in emerging specialty technologies and capabilities. Spanning 41 locations in 18 states and Canada, Penhall employs 1,300 professionals who are dedicated to meticulously maintaining equipment and upholding the safest working environment.
To read more about Penhall Company http://www.penhall.com
To read more about this project visit http://www.oregonlive.com