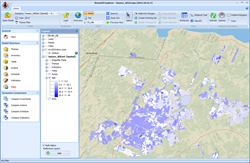 "The objective of this release was to meet specific requests from our clients", says Remsoft VP Forestry Doug Jones
New Brunswick, Canada (PRWEB) November 12, 2014
Today's release of the latest version of Remsoft's Explorer application will significantly improve the way forest plans and schedules will be shared with managers, planners, and on-the-ground operations. With the graphically rich and interactive Remsoft Explorer, model data and results can be manipulated and summarized in ways that will reveal new insights, enhance analysis, and increase collaboration among stakeholders.
"The objective of this release was to meet specific requests from our clients", says Remsoft VP, Forestry Doug Jones, "Forest management is highly complex and challenging given all the variables that come into play. With low margins and high risk our users count on our team to provide them with tools and services to be more efficient, transparent and sustainable. We have met this challenge with this version of Remsoft Explorer."
Designed to help bridge the gap between strategic business objectives and on the ground activities, Remsoft Explorer allows analysts, managers and others to better understand strategic, tactical and operational models, resulting in better predictive views of their business. Remsoft Explorer also enables users to easily share and communicate valuable insights to others in a very clear, visual way.
This latest release provides four key upgrades to the Remsoft Explorer application: interactive maps, reference layers, enhanced commenting, and the new schedule view.
With the introduction of maps and reference layers, planners can view, classify and annotate model schedules, indicators and input data in an interactive feature-rich mapping application. Base maps and other relevant spatial data can also be added to the mapping interface bringing more context and analysis capability to forest planning. As well, with the ability to drill into the specifics of the model and scenario results, users can quickly address questions in real time.
With the new schedule view, users can view and analyze the schedule across multiple periods in an intuitive interface that allows aggregation by harvest unit and provides columns that summarize key performance indicators. Further, the enhanced commenting functionality allows users to review comments made by others in the organization, adding a new level of collaboration to the planning process.
"We're very proud of this new version Explorer", says Elliot Sullivan, Product Manager at Remsoft , "the combination of key visualizations, like mapping , with the ability to review comments helps our users identify trends, outliers, anomalies and patterns while increasing buy-in and ownership across the organization. "