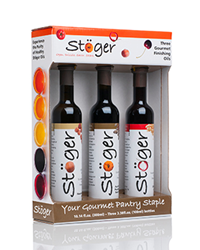 Byfield, MA (PRWEB) November 13, 2014
Just in time for the holiday season, one Austrian oil maker offers a decadent yet healthy way to jazz up your family's favorite recipes. Making its debut in select Sam's Club locations nationwide, the Stöger Oil Three-Piece Boxed Set is a tasteful combination of the brand's most popular flavors including Pumpkin Seed Oil, Hazelnut Oil, and Chile Oil. This conveniently packaged set of gourmet finishing oils includes a 100ml bottle of each flavor and is now available at 50 Sam's Club locations in cities including Philadelphia, Phoenix, and Miami.
Specializing in pure cold-pressed oils, the Stöger family takes pride in the intensive processes behind each bottle of Pumpkin Seed, Hazelnut, and Chile oil. Setting the European standard for cold-pressed oils, the Stöger family selects only the highest quality nuts, herbs, and seeds to produce oils of exquisite taste and value.
"With the Three-Piece Boxed Set we brought together our most popular flavors to offer Sam's Club shoppers an exclusive, one of a kind taste experience," said owner of Culinary Imports, Marietta DeAngelo. "This is the perfect set to keep in your pantry or give as a gift to holiday guests. You can grab any one of these oils to whip up a quick appetizer, main dish, or dessert. Watching people's amazement when they try these oils is always fun; most people in the US have never tried anything like them."
Every oil in the Stöger Oil Three-Piece Boxed Set provides a luscious flavor experience. The Pumpkin Seed Oil offers an intense nutty taste that is perfect for drizzling over grilled meat, potatoes, and even vanilla ice cream. The Hazelnut Oil has a savory and nutty flavor that makes a tasty addition to a cheese tray or homemade salad dressing. Rounding out the set with a spicy kick, the Chile Oil is a combination of pressed sunflower seeds and chilies that is ideal for soups, melted chocolate, and popcorn. With the holiday season quickly approaching, the Stöger Oil Three-Piece Boxed Set is the perfect alternative to butter and other processed cooking oils for any of your favorite recipes.
This Three-Piece Boxed Set is the newest addition to Stöger's product line that also includes 100ml bottles of Tomato Seed, Cherry Seed, Pumpkin Seed, Chile Seed, and Hazelnut Oils sold separately. A full list of Sam's Club locations that offer the Three-Piece Boxed Set can be found here: http://bit.ly/1xhQsD8.
###
About Stöger Oil:
For generations, the Stöger family has produced pure, cold-pressed oils by harvesting, slow roasting, and pressing homegrown seeds according to strict European standards. Having brought their oils from their small Austrian village to North America in 2009, they have since become national leaders in oil quality and flavor. In terms of taste, Stöger oils' full flavors and culinary versatility are unparalleled. With availability in Whole Foods Markets, Williams-Sonoma, and now Sam's Club, Stöger Oils are a gourmet pantry staple for kitchens nationwide. Find out more about Stöger Oils at: http://stogeroil.com/.