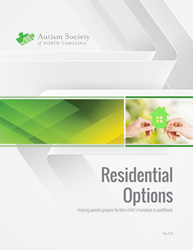 Raleigh, NC (PRWEB) November 13, 2014
The Autism Society of North Carolina has created a toolkit to help parents and caregivers as they consider residential options for their loved ones with autism who are nearing adulthood.
Planning for a child's move away from home can be emotional for any parent; for families affected by Autism Spectrum Disorder (ASD), the task is made more difficult by their children's needs.
The new toolkit describes the options available on a continuum from independent living to group living settings. It can help parents begin planning for their child's future by exploring financial options and teaching independent living skills. Finally, the toolkit describes all of the factors to consider when researching a group home for an individual with ASD.
The toolkit can be read online, downloaded, and printed here: http://bit.ly/ASNCtoolkits.
As the thousands of children with autism in North Carolina become adults with autism, the state's families face a growing shortage of supports. The Autism Society of North Carolina (ASNC) is committed to advocating for more resources for families affected by autism and helping them through transitions.
High attendance at workshops on residential options that ASNC offered around the state during the past few months shows that families are eager for this information. The workshops and the toolkit were made possible by a grant from The Jack Fanning Memorial Foundation. The foundation, which honors the memory of fallen FDNY firefighter Jack Fanning, is committed to aiding the autism community and providing the appropriate research, educational opportunities, and support needed for individuals and families to reach their full potentials. ASNC will continue to present the workshop occasionally; a webinar version is set for February.
ASNC offers other resources for families who are dealing with a loved one's transition to adulthood:

Autism Resource Specialists, who are parents of children with autism themselves, connect families to resources and help them as they navigate the services system.
Workshops on topics such as guardianship, transitioning to adulthood, and residential options are offered around the state. Check the ASNC website at http://bit.ly/ASNCWorkshopCalendar for a complete list.
The ASNC Bookstore is a one-stop shop for quality autism books and materials selected by ASNC's experienced staff.
Background:

Autism Spectrum Disorder (ASD) is a lifelong developmental disability that typically appears during the first three years of life. Recent studies estimate that up to 1 of every 58 children born in North Carolina will be affected by ASD.ready freed
For more than 44 years, the Autism Society of North Carolina has worked to address areas of need and expand services for the autism community in North Carolina. ASNC works to directly improve the lives of individuals affected by autism by providing advocacy, education, and services.
For more information, call 1-800-442-2762 or visit http://www.autismsociety-nc.org.