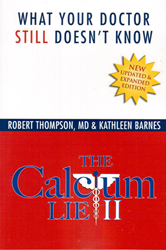 ANCHORAGE, AK (PRWEB) November 13, 2014
Robert Thompson, MD, an integrative medicine specialist, expands upon his message about the dangers of too much calcium with his new book, "The Calcium Lie II: What Your Doctor Still Doesn't Know," which details the roles minerals play in overall health and how to identify and correct deficiencies and imbalances.
Once again, Dr. Robert Thompson and his co-author, health journalist Kathleen Barnes, present information about the damage that can occur when the body's mineral balances are disrupted, and the dangers of too much calcium.
"If you believe that bones are made of calcium, then you've subscribed to what I call 'The Calcium Lie,' and you're not alone," says Thompson, an integrative medicine specialist deemed by his peers to be in the top 5 percent of U.S. physicians.
"Most consumers and, surprisingly, most doctors, believe that bones are made of calcium. Yet any basic biochemistry textbook will tell you the truth: Bones are composed of at least a dozen minerals and we need all of them in perfect proportions in order to have healthy bones and healthy bodies. Osteoporosis is caused by a loss of minerals from the bones not just calcium. We cannot possibly replace minerals with calcium alone. Calcium hardens concrete!"
Too much calcium, through food sources or by taking supplements, set individuals up for an array of negative health consequences, including obesity, Type 2 diabetes, Type 2 hypothyroidism, hypertension, depression, problem pregnancies, dementia, heart disease, kidney stones, gallstones and more.
"The Calcium Lie II" goes beyond the dangers of too much calcium, exploring the roles played by vitamins and common misconceptions, such as the false belief that ascorbic acid is vitamin C.
"Ascorbic acid is one of many nutrients in the vitamin C molecule – the whole molecule is what we really need," Thompson says. "Ascorbic acid alone actually depletes vitamin C from the body."
With updated, expanded and greater in-depth explanations of the medical problems that can be caused by mineral imbalances, the book offers solid strategies to correct them.
"There is nothing mysterious or speculative about 'The Calcium Lie,' " writes Carolyn Dean, M.D., N.D. "It's based on the basic biochemistry that every doctor studies in medical school, yet never seems to apply.
"Sadly, most doctors have forgotten that mineral co-factors are involved in every biochemical reaction in our bodies. Mineral balance or imbalance is so crucial that having the correct balance can be a matter of life or death. Everyone should read this excellent book and for every doctor it's a must read."
Amazon reviewer Correne V. Craig, gave the "The Calcium Lie II" five stars: "This book is full of good nutritional /medical information. It is not gimmicky. A person can feel the sincerity of Dr. Thompson to help people …."
About Robert Thompson, M.D.
Dr. Robert Thompson is a board-certified obstetrician and gynecologist, and a nutrition specialist who helps patients achieve long-term relief from chronic disease, including obesity, diabetes, hypothyroidism and adrenal fatigue. His newest book, "The Calcium Lie II," is available for free at http://www.calciumlie.com. Dr. Thompson received his medical training at the University of Kentucky and has been a leader in medical advances for more than 30 years.