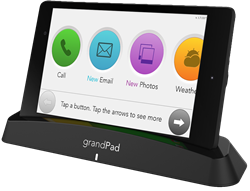 Simple joys should be simple to share
Santa Ana, California (PRWEB) November 25, 2014
grandPad Inc., available today, is an easy-to-use tablet computer and cloud curation service made to help seniors connect and communicate with family and friends. The grandPad experience is both secure and simple, offering the easiest way for seniors to connect with family and friends through digital technology. This tablet is designed for the absolute beginner and includes everything, right down to curated music delivered from the cloud. The icons are easy to read and content is preloaded into the device with no setup or configuration required. The tablet is connected to the cloud via 4G LTE connectivity. This device allows seniors to send voice emails, view pictures and videos, listen to music, play games, and make video calls.
"The grandPad has been changing my mother's life. She is now electronically connected to all of her children, not to mention her grandchildren and even great grandchildren. Mom is 'in the know' with all of my siblings and their families and is watching the next generation of kids grow up in real time as we post pictures and videos for her daily," says Jill from Iowa, the daughter of a grandPad user. Her mother, Joan, is 82 years old. She continues, "Our entire family has benefited from the grandPad. It's so exciting to have our mother connected with us, and we love how Mom uses her grandPad as a 'brag book' to show off the family pictures when she visits with her friends."
With the grandPad, there is now a simple way for seniors to connect and communicate. A simple tablet, designed for novice users and works right out of the box. No account logins or passwords are required to use the grandPad. Seniors everywhere now have an easy way to stay in touch.
Best of all, the grandPad includes everything seniors need to use it immediately.

A grandPad 7" tablet with case and stylus
Inductive wireless charging dock
Built-in 4G LTE connectivity service
No cords, no passwords, no long-term contracts
Free iPhone and Android companion apps to make connecting with family easy
In addition, each grandPad comes pre-loaded and customized with family photos, videos, email, weather, music, camera, video chat and games.
The grandPad is simple and straightforward, right down to the month-to-month subscription. Plus, the grandPad's support team will help connect loved one's computers and smartphones to the grandPad for easy communication.
It takes just 10 minutes to order the grandPad from http://www.grandpad.net. During the building process, family and friends can connect via the grandPad portal to add the trusted family members and friends that can communicate with the grandPad. This allows the device to arrive pre-loaded.
Currently, the grandPad is only available in the United States direct to consumer and business to business bulk sales. grandPad is founded on the mission that "simple joys should be simple to share." To learn more, visit http://www.grandpad.net.
About grandPad:
grandPad was founded on the idea that current digital communications technology should be accessible to seniors. The mission behind the grandPad is that technology should be intuitive, engaging, transparent and not complex. grandPad has created a simple tablet that connects and helps seniors communicate easily with family and friends. Simple joys should be simple to share.