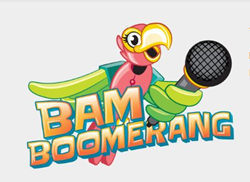 Bam Boomerang provides parents and teachers with an engaging way to get kids reading out loud.
Phoenix, AZ (PRWEB) November 14, 2014
Open Reading's new app, Bam Boomerang, provides parents and teachers with an engaging way to get kids reading out loud. With 11 days left in their Kickstarter fundraising campaign, Bam Boomerang is just shy of their goal, according to Open Reading Inc. Founder and CEO Keenan Wyrobek.
"This is very exciting," says Wyrobek. "We are within a few thousand dollars of reaching our minimum goal."
Bam Boomerang is a free reading app that helps children learn to read by giving audio feedback to young readers.
Wyrobek says the funds raised through their Kickstarter campaign will be used to develop "Teacher Tools" for the app. Teacher Tools is a subscription-based set of analytics that teachers can use to help monitor each student's reading progress.
You can support the Bam Boomerang Kickstarter campaign here.
Wyrobek, a successful engineer who has designed and built medical devices at Johns Hopkins, who founded the Stanford Personal Robotics Program, drove the vision and built PR2 and ROS while at Willow Garage, and continues to engineer excellent products at Romotive, says his desire to help children learn to read came from his own reading challenges as a child.
"I had a great deal of trouble learning to read when I was young," says Wyrobek. "Fortunately, my mother was an expert at teaching reading. She created fun and engaging games for me, and it wasn't long before I became a very confident reader. Bam Boomerang is the outcome of that experience."
His mother, Judy Kranzler, has over 30 years of tutoring, teacher training, and experience designing literacy curriculum and learn-to-read games. She is now the literacy expert for Bam Boomerang.
"Bam Boomerang targets 3-6-years-olds and combines proven research-based methods about how children learn to read with innovative games that engage children in the learning experience," says Kranzler. "It develops confident readers by building progressively more difficult skills including: letter sound and word recognition, proper pronunciation of letter sounds and words, decoding, blending, sight words, and comprehension."
Bam Boomerang has already been well received–and reviewed–by both teachers and parents.
Lauren Mishork, a Kindergarten teacher in Albany, California, says it is a great learning tool in the classroom.
"Games, especially electronic versions of games, are motivating for students," says Mishork. "Students don't even realize they are practicing their early reading skills when they're playing Bam Boomerang."
Bam Boomerang's Kickstarter campaign runs until the morning of Nov 26. You can support the Bam Boomerang Kickstarter campaign here.
If you'd like more information or to schedule an interview with Keenan or Judy, please email beth(at)openreading(dot)org.