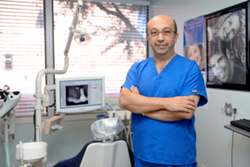 We make all procedures as comfortable and painless as possible so that our clients always feel confident they are in good hands, says Dr. Daneshrad
LOS ANGELES, CA (PRWEB) November 13, 2014
Dr. Davis Daneshrad knows some dental problems just can't wait, which is why the renowned, professional dentist is offering 24-hour on call services for emergency appointments, including holidays. The new extended service is one of several exciting new accommodations West Los Angeles Dentist is offering to its patients.
Cosmetic dental problems, such as a cracked tooth, are one of the leading causes for patients to seek out emergency, 24-hour dental service. In addition to being on call 24 hours a day, seven days week, West Los Angeles Dentist has a host of options depending on the patient's needs, including dental implants, root canals, and fillings. Other services include emphasis on cosmetic procedures, such as bonding, bridges, porcelain crowns, veneers, and tooth whitening, among other services.
One of West Los Angeles Dentist's shining achievements is it's advancement in treating sleep apnea, one of the most common and potentially serious breathing conditions that affects millions of people every day. Through Oral Appliance Therapy (OAT), a non-invasive and painless procedure that employs the use of a special mouth piece to improve the flow of breathing. OAT is an alternative to the Continuous Positive Airway Pressure (CPAP) treatment that is commonly used for sleep apnea sufferers.
"Our practice goes above and beyond to ensure my patients receive the highest level of care," said Daneshrad. "We make all procedures as comfortable and painless as possible so that our clients always feel confident they are in good hands," he added.
The West Los Angeles Dentist practice has provided exceptional care to its patients since the practice began in 1988. Dr. Daneshrad has built a reputation for always staying ahead of the curve and adopting the latest technological solutions to help provide clients with world class dental care. Dr. Daneshrad is multi-lingual and speaks, English, Spanish, and Farsi.
The practice's doctors and staff are highly-skilled professionals and graduates from well-known institutions such as UCLA and Georgetown University. The practice also emphasizes continuing education and studying new curriculum to ensure West Los Angeles Dentist maintains a competitive edge, providing the best options and treatments to clients.
For more information about West Los Angeles Dentist and Dr. Davis Daneshrad, visit http://www.thewestlosangelesdentist.com or call (310) 477-8766. The practice can also be followed online at Facebook The West Los Angeles Dentist, Twitter @DrDDentist and Yelp.
The West Los Angeles Dentist - 11850 Wilshire Blvd., Suite 101 West Los Angeles CA 90025
For Media Inquiries and Interviews, please contact Yvette Morales at YM & Associates at YMoralesY(AT)YM-PR.com.
Yvette Morales
YM & Associates
PR | Marketing | Branding
California | New York
Phone: 949.244.9769 | 310.499.0906 Fax
YMoralesY(at)YM-PR(dot)com
@YMTheBevHillsPR
http://www.YM-PR.com