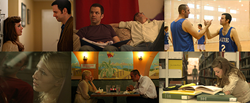 A Great Movie for Any Student Thinking about Going to College Someday.
AUSTIN - TX (PRWEB) November 13, 2014
Filmmaker makes film that takes a realistic view of college and the various significant challenges that students face.
College films tend to be successful. Leveraging the absurdity of fraternity life for jokes upon jokes. They're funny, sure, but are they realistic? Not really.
So where are the college films that give us a realistic look? Where are the films that show how difficult it can be for students who are away from home for the first time as they make significant life decisions for their career and for their relationships?
There are some. There's "Kicking and Screaming," not the Will Farrell one. There are the comedies that endeavor to get a bit deeper, like "Slackers," not Linklater's "Slacker."
But where are the rest? Doesn't this country idealize youth?
Aren't most of us nostalgic for college? And not because it was just like Animal House or Old School, but because it was something else. Because we were all away from home for the first time. Because we were all trying to figure it out together. Because we were trying to find our identity after high school.
One new independent feature film takes a deeper look at college. "Bounce Past" by writer/director Seth Kuhn, looks at 5 different college students as they try to figure out what and who they want. "These characters are all trying to help each other make it through college while dealing with some of the more subtle but significant issues that many students have a very real struggle with today," says filmmaker Seth Kuhn of his college commentary.
"Bounce Past" is launching online for the first time, Friday November 14th, at which time DVDs and Downloads will be available for purchase. As part of the launch, producers are giving away some free content about the film in addition to an iPad and a $500 Amazon Gift Card. Bounce Past producers hope this film can be used to ready Americas youth for college in a deeper, significant way, that no other film has done to this point.
For more information or to sign up for the Giveaway, visit http://www.BouncePast.com.
Filmmaker Seth Kuhn grew up in Lexington, MA and moved to Austin, TX after high school, where he attended the University of Texas at Austin's Theater and Dance Program. After graduating he made his first feature film, "Bounce Past," with 4 other UT Alumni as well as a few Texas State University Alumni and students.