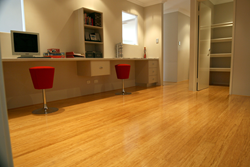 (PRWEB) November 14, 2014
BambooIndustry.com is a leading bamboo product company offering many kinds of solid flooring, engineered flooring, wide plank flooring and more. The company today announces an engineered bamboo flooring promotion.
"We hope to expand our global market share with its eco-friendly products. The engineered flooring promotion is launched because the demand is huge," the sales manager says.
As a leading manufacturer of flooring products, BambooIndustry.com has won great reputation from the overseas market and many reviews sites. Nowadays, more and more consumers choose bamboo flooring for its durability and strength, and the staff BambooIndustry.com has confidence to make a greater success in the coming few years.
According to an engineer of BambooIndustry.com, a bamboo floor is a type of flooring manufactured from the plant, and the majority of today's flooring products comes from China. On the other side, the flooring products from BambooIndustry.com are naturally beautiful with a smooth surface texture, and they are especially designed for the those who never compromise on quality and style.
BambooIndustry.com brings over six years of experience in business development and product management for various customers worldwide. Its team continued to stretch the limits and built the most competitive products in the world.
About BambooIndustry.com
Certified by both ISO9001:2008 and ISO14001:2004, BambooIndustry.com has 8 years of experience in the manufacturing and wholesale of bamboo flooring products. The company strives to bring its customers the latest styles and innovations of click lock bamboo flooring and other similiar products.
More information about BambooIndustry.com and its bamboo flooring products can be found at http://www.bambooindustry.com/