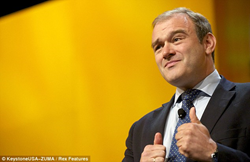 London (PRWEB) November 14, 2014
Tidal represents a key part of the UK's energy strategy and the industry will only strengthen with high level support, significant balance sheet commitment and clear direction from policy makers. Minister Davey's attendance at this cornerstone event will demonstrate support for the sector and deliver a much needed injection of confidence.
The Energy Minister's keynote speech will address how recent changes at DECC will affect the policy framework for tidal, how the Government plans to maintain momentum for research and investment, and the support that investors can expect from Government.
After a long line of industry meetings including Ocean Energy Europe in Paris, the International Conference on Ocean Energy in Halifax and Renewable UK this week in Manchester – ITES is where the industry leaders will gather to do the end of year wrap-up.
Minster Davey will be joined by over 400 of the leaders and pioneers developing commercial tidal power including: Alstom, Atlantis Resources, Carbon Trust, DECC, EDF Energy, EMEC, ETI, GDF Suez, Innovate UK, Mojo Maritime, Ocean Energy Europe, OpenHydro, Siemens, The Crown Estate and West Normandy Marine Energy.
For more information on the agenda, speakers or on how to join the event please visit the website: http://www.tidaltoday.com/tidal-conference/ for any other enquiries please contact project director Elizabeth Demestiha at Tidal Today: elizabeth(at)tidaltoday(dot)com