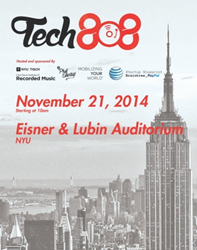 New York, NY (PRWEB) November 14, 2014
More than 300 technology and social entrepreneurs and 100 students will gather, learn from the top urban-inspired start-ups at Tech 808, a technology conference to be held at NYU's Eisner and Lubin Auditorium on Friday, November 21. Sponsored by The Phat Startup, NYU's Clive Davis Institute of Recorded Music, PayPal Startup Blueprint, and AT&T, Tech808 was designed to highlight the possibilities of starting a technology-based company and provide an inside look at the business processes they will need to start or enhance their ventures.
The conference includes a diverse list of guest speakers, including keynote speaker, Reshma Saujani, the founder and CEO of Girls Who Code, and the former Deputy Public Advocate of New York City; Young Guru, the a Grammy-nominated producer for Alicia Keys and Jay Z; Devo Springsteen, Grammy-winning producer and founder and CEO of Adventr; and a host of others, listed below:

Nathalie Molina Niño, Co-founder, Entrepreneurs@Athena
Mike King, Founder, ipullrank
Rakia Reynolds. Founder, Skai Blue Media
Joah Spearman, Co-Founder & CEO, Localeur
Dan Porter, Founder, Inside Startups & Head of Digital, William Morris Endeavor
JP Lespinasse, Director of Social Media, BET
Tanya Menendez, Co-Founder, Maker's Row
Jesse Kirshbaum, CEO & Talent Agent, NUE Agency & Co-Founder, SoundCTRL
Brian Watson, Director of Partnerships, VSCO
Nihal Mehta, Founding General Partner, Eniac Ventures
CJ Peters, CEO & Founder, Konsole Kingz
Trevor Owens CEO, Javelin & Lean Startup Machine
"These entrepreneurs are inspirational people, not simply due to their success in creating innovative new products and services, but in their commitment to mentoring the next generation," said Nikki Mirasola, Events Coordinator at The NYU Clive Davis Institute of Recorded Music. "Tech 808 will show just how diverse the start-up community already is and how welcoming it can be to new ideas and talent."
"Tech 808 will change the game because it will combine actionable entrepreneurship lessons while fusing our love of hip hop and tech," said James Lopez, co-founder of The Phat Start-up. "This will be a place for us, by us."
As part of the conference, all attendees will receive one free month of http://skillshare.com/ services from Skillshare, the online business learning site, which will also offer 10 scholarships in the form of annual memberships going to the first 10 people to use a special promo code. For additional information on Tech808, or to purchase tickets, email wanda(at)thephatstartup(dot)com or visit Tech808.co.
About The Phat Startup
Inspired by urban culture, The Phat Startup is an integrated media company that produces premium content for all levels of entrepreneurs, equipping them with actionable advice to elevate and springboard their ideas into a thriving competitive business. The Phat Startup doesn't sell the dream they sell the steps to get there.
About the NYU Tisch Clive Davis Institute
The Clive Davis Institute of Recorded Music provides professional business and artistic training toward a Bachelor of Fine Arts degree for students who aspire to succeed as creative entrepreneurs in the music industry. The program bears the name of its chief patron and advisor, Clive Davis.
###