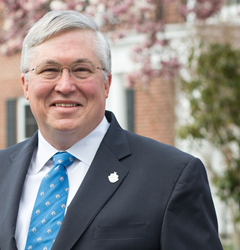 Dobbs Ferry, New York (PRWEB) November 15, 2014
Mercy College President Tim Hall delivered an inspiring keynote address at the 2014 National Symposium on Student Retention (NSSR) in Louisville, Kentucky on Nov. 4. Hall, who is a nationally recognized leader in higher education, urged the more than 500 leaders from 257 colleges and universities around the country to focus on raising the college graduation rates for low-income minority students. Hall said "defeating demography" is the biggest challenge of our time.
In his speech, Hall presented the topic of "Creating a Campus Culture for Student Success." He said, "My friends, we have three choices. We can choose to accept demography, and resign ourselves to a view that would make college graduation unlikely for many of our students. We can choose to avoid demography by simply increasing admissions standards, and excluding from our institutions students who might threaten our retention or graduation rates. Or we can choose to defeat demography and get better, not primarily by getting better students, but by getting better for the students we have."
Hall's speech was met with tremendous enthusiasm. During the discussion session, audience members thanked Hall for his inspiration. The first person from the crowd to speak remarked, "I hope your presentation was videotaped because I plan to watch it whenever I need motivation." NSSR plans to make the video available online in the next few weeks.
NSSR is held every year for leaders in higher education to share best practices for student success. Hall was selected to be the keynote speaker as one of the nation's most respected and recognized national thought leaders on student success. The White House and Bill Gates have praised his leadership for its innovative use of technology to support student success. He has testified before the Senate Health, Education, Labor and Pension Committee concerning innovation in higher education. In addition, Public Agenda published the report, "Seven Practices of Enlightened Leadership in Higher Education," spotlighting Hall's presidential leadership at Austin Peay State University in Tennessee, a position he held until May 2014.
Also during the three-day symposium, a team from Mercy College presented their recently published paper on college completion—arguably the hottest topic in higher education—titled, "Competency-based Remediation: A Transformative Approach to Gateway Course Success." The presentation showcased Aim2Graduate, Mercy's innovative program that helps freshman succeed in core classes. Students in the program persist in college at a 94 percent rate. The program has shown to be a scalable model for similar colleges.
The paper was co-authored and presented by Masele Kibassa, associate director for math and science, Vitale Center for Academic Excellence and Innovation (VCAEI); Jo Ann Skousen, associate director for English and writing, VCAEI; and Andy Person, executive director of student success and engagement at Mercy College. The paper was also co-authored by Lorraine Whitman, Ph.D., executive director, VCAEI.
Mercy College, a private, nonprofit college based in the New York City area, enrolls 11,500 students and is part of a small sector (10 percent) of colleges in the U.S. that meet federal criteria as a Hispanic Serving Institution, which is defined as having an enrollment of full-time undergraduates that is at least 25 percent Hispanic students. Hispanic Serving Institutions educate two-thirds of the youngest and fastest growing Latino population in the U.S.
"This issue of how we increase students' chances for success falls especially on intuitions who serve low-income students," said Hall. "I believe there is a natural convergence between Mercy's mission and this national conversation. Mercy has an access-oriented mission which seeks to provide transformational educational experiences to predominantly low-income students who are often the first in their families to attend college."
NSSR is sponsored by the Consortium for Student Retention Data Exchange at the University of Oklahoma, which is dedicated to achieving the highest levels of student success through collaboratively sharing data, knowledge and innovation. The event celebrated its 10th anniversary this year.
For more information, visit http://www.mercy.edu.
About Mercy College
Founded in 1950, Mercy College is a private, not-for-profit higher education institution that offers more than 90 undergraduate and graduate degree and certificate programs within five prestigious schools: Business, Education, Health and Natural Sciences, Liberal Arts and Social and Behavioral Sciences. Mercy College offers an engaging and personalized learning experience that includes the College's revolutionary Personalized Achievement Contract (PACT) program. The Mercy College PACT is the first program of its kind and now serves as a nationally recognized model for mentoring. http://www.mercy.edu/ 877-MERCY-GO.
###