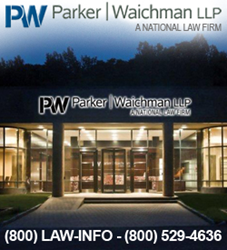 Port Washington, NY (PRWEB) November 14, 2014
Parker Waichman LLP, a national law firm that represents whistleblowers in qui tam cases, comments that a United States appeals court recently ruled that a lawsuit brought against JPMorgan Chase be re-opened and that the judge consider if the case should be permitted to continue under a more lenient standard of whistleblower protection. The case was filed by a former bank vice president who alleged that JPMorgan Chase disregarded warnings concerning potential fraud involving one of its clients; this, after exposure of the massive Ponzi scheme orchestrated by Bernard Madoff, according to an October 9, 2014 Daily Finance report. The case is Sharkey v. JPMorgan Chase & Co. et al., 2nd U.S. Circuit Court of Appeals, No. 13-4741.
In January 2014, JPMorgan agreed to pay $2.6 billion to the United States government and victims of Madoff's Ponzi scheme to settle allegations it failed to advise authorities of its suspicions of fraud allegedly occurring at Madoff's firm. U.S. District Judge Robert Sweet tossed the case in December and ruled that Ms. Sharkey did not show her complaints related "definitively and specifically" to one of the categories of misconduct that were protected under the 2002 Sarbanes-Oxley Act, according to Daily Finance.
The False Claims Act provides whistleblowers with protection and the ability to receive compensation for their work in many cases. The Act, which was passed in 1863 during the Civil War, includes various amendments that were included in 1986 that increased damage and penalty amounts for the purpose of driving whistleblowers to come forward, notes Parker Waichman LLP. Whistleblower awards range from 15 to 30 percent of damage and penalty amounts, which means whistleblowers may receive millions of dollars in awards.
Lawsuit allegations include that JPMorgan Chase executives ignored Ms. Sharkey's concerns going back to January 2009 regarding an unnamed Israeli client potentially engaging in fraud and money laundering activities in the weeks following exposure of Madoff's multi-billion-dollar Ponzi scheme by neglecting to provide documentation for an array of businesses; conducting business with Colombia, despite a bank ban on transactions with the country; and maintaining a trading account in the name of a law firm that funneled money into JPMorgan commercial checking accounts, which could not be traced by the bank's private wealth management unit. Madoff was a long-term JPMorgan client who sent more than $150 billion worth of deposits and transfers from his investors through the financial institution over more than 20 years. Ms. Sharkey's employment was terminated in August 2009, which she claims is in retaliation for her opening up about the scheme. (Sharkey v. JPMorgan Chase & Co. et al., 2nd U.S. Circuit Court of Appeals, No. 13-4741.)
Whistleblowers are critical in the detection of fraud and to stopping fraud. This case is another example that actions will be taken against companies and other entities that commit fraud and other wrongdoings, Parker Waichman LLP notes.
The Dodd-Frank Whistleblower Law enables whistleblowers who report a securities fraud complaint to remain anonymous when working through a whistleblower attorney. In fact, not only is a whistleblower attorney necessary for whistleblower confidentiality, your attorney may help to increase the award size. Under the Dodd-Frank Whistleblower Law, anonymity is maintained until a cash award is paid. Once paid, the whistleblower name must be released. The obvious benefit under the law is that, should the Securities Exchange Commission (SEC) opt against pursuing a securities fraud action, the whistleblower name will never be released.
Parker Waichman LLP is pleased to see justice prevail in another whistleblower case and looks forward to this case being tried and resolved. We support efforts to protect whistleblowers and offers free legal evaluations to those individuals who believe their companies may be involved in wrongdoings.
If you believe that fraudulent activities are being committed by your employer or other entity and would like to maintain your anonymity and be protected from retaliation, we encourage you to contact us at the firm's Whistleblower page at yourlawyer.com or call 1-800-LAW-INFO (1-800-529-4636).