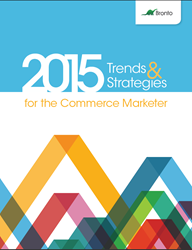 We have tapped into our experiences and expertise to identify the most important trends and tools for 2015
Durham, NC (PRWEB) November 13, 2014
Bronto Software, the leading marketing platform for commerce and the #1 email provider to the Internet Retailer 1000, today announced the release of a new whitepaper, "2015 Trends & Strategies for the Commerce Marketer," which pinpoints emerging trends and outlines commerce marketing strategies for retailers to proactively engage with the rapidly evolving consumer landscape.
"As mobile devices have become a ubiquitous part of the customer experience, consumers are shaping their individual shopping experience. Retailers are often left struggling to catch up, so in 2015 commerce marketers must consider new technologies and strategies to reach and retain consumers," said Jim Davidson, head of research at Bronto Software. "Bronto's work with leading retailers places us on the front lines of digital marketing every day. We have tapped into our experiences and expertise to identify the most important trends and tools for 2015."
The paper features Q&As with Bronto's commerce marketing strategists who offer tips and actionable insight that commerce marketers can use to capitalize on emerging trends and to adapt marketing strategies to build programs that engage customers in a way that drives higher sales, boosts loyalty and delivers long-term financial and brand success. For example:

Mobile Commerce Implications –how the shift from tablet-driven mobile shopping to smartphone-optimized shopping creates the need to make the mobile experience more accessible, personalized and user-friendly.
Catching up with Amazon –strategies to chip away at Amazon's long-standing market dominance to capitalize on customers' frustrations with Prime membership fees, a higher shipping threshold and fewer items that quality for discounts.
In addition, other trends discussed include:
Popularity of location-based triggers
Smartphone sales taking over tablets
Momentum of millennial marketing
Value of storytelling
Sophisticated shopping cart reminders
Rising Pace of Personalized Services and Connected Experiences
The whitepaper is available for download at http://bronto.com/trends
About Bronto Software
Bronto Software provides a cloud-based marketing platform for organizations to drive revenue through their email, mobile and social campaigns. Bronto is the number one ranked email marketing provider to the Internet Retailer Top 1000, with a client roster of leading brands worldwide, including Armani Exchange, Timex, JustFab, Samsonite and Boot Barn. The Bronto Marketing Platform is deeply integrated with commerce platforms, including Magento, Demandware, NetSuite and MarketLive. The company is headquartered in Durham, NC, with additional offices in London and Sydney. For more information, visit http://bronto.com.