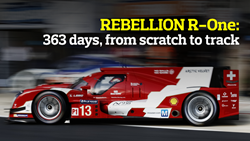 Using STAR-CCM+ was key in the process. -David Floury, ORECA Technology Director
New York and London. (PRWEB UK) 18 November 2014
CD-adapco™, the largest privately held CFD focused provider of Computer Aided Engineering software, has been pivotal in the design of the REBELLION R-One LM P1-L car. In 2013, REBELLION entered a partnership with ORECA Technology to design and build the REBELLION R-One, using Toyota engines. In just under one year, 363 days to be exact, ORECA Technology built this state-of-the-art race car which was completely designed from scratch using CAE tools, including STAR-CCM+. ORECA Technology has been using STAR-CCM+ to simulate all aspects of the car, including aerodynamic, hydrodynamic and thermal management.
Compared to previous ORECA race car designs, the REBELLION R-One car has been built from a completely clean slate, instead of being forced to make incremental changes to an existing design. The team adopted a 'no limits' design philosophy, in which every decision was made with the aim of improving performance.
David Floury, ORECA Technology Director commented on the importance of STAR-CCM+ during the design process: "The design bureau started working on the study of this prototype from scratch and completed the project in record time. Only twelve months separate the first initial sketch from the first roll-out! Using STAR-CCM+ was key in the process. We needed a reliable tool, with high precision, allowing a fine work on details and enabling innovation. Also, it is important to rely on previous experiences when conducting such a project, that is why the long-term partnership with CD-adapco has been particularly appreciated. The engineers were aware that the correlation between the CAD and the track would be excellent. We had to be 'efficient' just like the technical rules and regulations written by the FIA and the ACO are."
At the 82nd 24 Hours of Le Mans this past June, the REBELLION R-One (car number 12 driven by Nicolas Prost, Nick Heidfeld and Mathias Beche) secured an impressive fourth place overall, beating several factory teams and winning its class overall. Two REBELLION R-One are running in the World Endurance Championship against Audi, Porsche and Toyota, with next race at Bahrain.