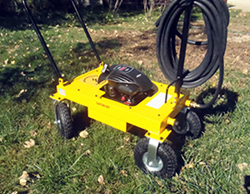 Fort Lupton, Colorado (PRWEB) February 16, 2015
The newly patented Rascal Eradicator eliminates prairie dogs, groundhogs, gophers and other burrowing pests with a safe and humane treatment and without the risk of poison and explosives. Grounds maintenance personnel, property owners and others who struggle to manage infestations often conflict with citizens concerned for the safety of their families and pets and the inhumane methods commonly used. Rascal Eradicator addresses those concerns and offers an alternative. Rascal Eradicator resolves the problem of burrowing pests that destroy property and carry disease with a unit that quietly and gently puts rodents to sleep permanently.
Ranchers, municipalities, home owners associations and grounds maintenance professionals struggle with concerned citizens over traditional methods used to eliminate prairie dogs, ground hogs, gophers and other burrowing pests. Unsafe and inhumane methods are unsatisfactory, but there have been no other options until now. The Rascal Eradicator unit employs a new method that eliminates pests without putting other animals and people at risk, causing damage to the property, or maiming the rodents.
Rascal Eradicator's updated design is easy to maneuver and has a trailer hitch option allowing the unit to be towed behind an ATV for larger properties. It is the size of a large walk-behind lawnmower and can be easily stored when not in use.
The Rascal Eradicator unit was invented by Billy Martin and Terry Williams to solve the ongoing problem of prairie dog infestation at Terry's property in Fort Lupton, Colorado. Dr. Williams was not comfortable with the risks associated with available methods of prairie dog removal and asked Billy Martin for help in creating an alternative method. The unit went through rigorous testing and modifications before being offered to the public.
Learn more about Rascal Eradicator by visiting rascaleradicator.com or calling (303) 910-9106.