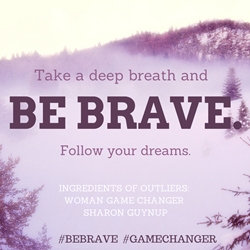 Scottsdale, AZ (PRWEB) November 15, 2014
Outliers Publishing announced today that it will be offering the short eBook with exclusive interview content from Sharon Guynup, Tigers Forever co-author, free in Kindle format on Amazon.com today through November 17, 2014. The book, Ingredients of Outliers: Woman Game Changer Sharon Guynup, can be downloaded from Amazon.com and viewed on any Kindle or device with a free Kindle reader application by visiting the book's Amazon page at http://www.amazon.com/Ingredients-Outliers-Changer-Sharon-Outlier-ebook/dp/B00NW13KVK/ref=sr_1_4?ie=UTF8&qid=1415904341&sr=8-4&keywords=ingredients+of+outliers.
Released in September 2014, Ingredients of Outliers: Woman Game Changer Sharon Guynup contains extended interview content from one of the six influential women profiled in the upcoming book Ingredients of Outliers: Women Game Changers. In the short eBook offered now as a free download on Amazon, get to know Guynup, who is fighting to save the world's Tigers. She is an accomplished environmental journalist and photographer who has been published in the Smithsonian, National Geographic, and Huffington Post, to name a few. The short e-Book features extended exclusive interview content about her career path from fine art and rock and roll photography to environmental journalism, as well as her struggles growing up, and advice to others aspiring in her field.
Outliers Publishing expects the giveaway to increase awareness of the Outliers Series. The series contains two published books in various formats and four short eBooks. Twelve more full-length books and 68 more short eBooks are scheduled to publish over the course of 2014- 2015. The series will introduce students, or prospective professionals of any age to insider tips on becoming an outlier in their desired profession. Readers can expect the Outliers Series to cover careers in: medicine, education, writing / journalism, health, sports, the arts / entertainment, entrepreneurism / business, music, technology, and service to mankind/ to country. For publishing updates, visit http://www.ingredientsofoutliers.com.
To learn about future promotions on the books in the Outliers Series, visit Facebook at https://www.facebook.com/readingredientsofoutliers or the Ingredients of Outliers Blog at http://www.ingredientsofoutliers.com/blog/.
About the Author
The Series is written by John Shufeldt, MD, JD, MBA, FACEP, who is a practicing physician and attorney, as well as a pilot (both plane and helicopter) and business entrepreneur. He is the Principal of Shufeldt Consulting, MeMD, Urgent Rad, Urgent Care Integrated Network, and FindUrgentCare. Shufeldt is also an adjunct professor at the Sandra Day O'Connor College of Law where he teaches a clinic on Health Law Entrepreneurism. He serves on the Drake University Board of Trustees and the Sandra Day O'Conner College of Law Alumni Board