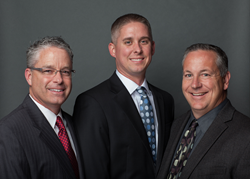 Madison, WI (PRWEB) November 14, 2014
Going forward, First Supply branches will be aligned into three geographical regions providing a more consistent and focused approach to our customer service efforts as well as operational processes and procedures. While current management of the branches remains in place, each will fall into a designated region; Northern, Western and Southern, with each managed by a General Manager.
Heading the Northern Region will be Mike Meiresonne, who joins First Supply with 10+ years in the industry, holding positions in inside sales, branch management, HVAC territory management and sales management. As General Manager of the Northern Region, Meiresonne will be headquartered in Appleton and will have responsibility for branches in northeast and central Wisconsin, including Appleton, Green Bay, Rhinelander, Plover, Sheboygan and Oshkosh.
In the Western Region, Brian Heidtke has been promoted to the role of General Manager. Heidtke joined First Supply in March of 2013 as the Sales Manager of the Eau Claire branch and was most recently the Assistant General Manager. Heidtke has significant previous industry experience in branch management and in both plumbing contracting and manufacturer's rep roles. As General Manager of the Western Region, Heidtke will be headquartered in Eau Claire and will have responsibility for Minneapolis, Brainerd, Rochester, Winona and Owatonna in Minnesota as well as Eau Claire, La Crosse and Tomah in Wisconsin. Current Eau Claire General Manager John Kohlhepp will be transitioning from his role and moving into a special projects role working closely with First Supply President, Paul Kennedy.
Leading the Southern Region will be long-standing First Supply employee, Michael Miller. Since joining the Quotations Department in 1990, Miller has held a variety of roles at First Supply, including; Customer Service, Assistant General Manager and as General Manager of the Madison Region for the past 12 years. As General Manager of the Southern Region, Miller will be headquartered in Madison and will have responsibility for Madison, Janesville, Brookfield, Delavan, Kenosha, Oak Creek, Racine and West Bend in Wisconsin along with Rockford and Freeport in Illinois.
Remaining First Supply branches located in Dubuque, Cedar Rapids and Platteville will fall under the direct management of First Supply President, Paul Kennedy. Kennedy will work with current branch management to solidify the position within those markets.
Seen as an exciting time at First Supply, this restructure will align our operational processes and customer experience and strengthen our position for continued growth and success. This change does not impact our Kitchen & Bath Store, Gerhards or current Gerhards management.
Established in La Crosse, WI, First Supply LLC is a regional wholesale distributor with twenty-eight locations in the upper Midwest. Founded in 1897, First Supply, employing over 600 people, is a family-owned, single source provider of HVAC-R, Builder, Plumbing, Waterworks, Industrial PVF and Pump/Well & Septic supplies.