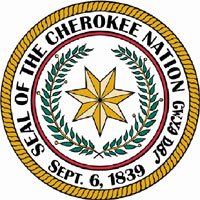 TAHLEQUAH, Okla. (PRWEB) November 13, 2014
The Cherokee National Youth Choir was left speechless Thursday when members of the legendary rock band Foreigner visited the Cherokee Nation and presented them a $10,000 check.
The choir was singing for employees when Foreigner Bassist Jeff Pilson and Manager Phil Carson surprised them, announcing they had won a contest sponsored by Foreigner and the GRAMMY Foundation, which has a longtime commitment to high school music programs.
"Music education is of paramount importance," Pilson said. "We are thrilled to be able to award the Cherokee National Youth Choir for their amazing efforts in promoting music, which was so integral in our own lives."
More than 120 choirs nationwide submitted a public service announcement for the Foreigner/GRAMMY Foundation contest, stressing the importance of music in school.
"I think it's amazing that Foreigner was touched by our music and they have such a willingness to be a part of it," said Bailey Justice, a senior at Sequoyah High School on the choir for five years. "Our language is a dying language and this helps preserve it. People really enjoy it when we sing Foreigner songs in the Cherokee language because it exposes the language to so many more people when they hear us sing recognizable rock songs."
The Cherokee National Youth Choir is an avenue for youth to learn their language and share Cherokee with crowds across the country. The choir has produced 12 CDs in the Cherokee language. They have performed in the Macy's Thanksgiving Day Parade and venues across the country.
"We're very proud of our Cherokee National Youth Choir for being such highly visible advocates for our language preservation efforts. We'd like to say a special thanks to the GRAMMY Foundation and Foreigner for recognizing these students' achievements and their advocacy through music," said Cherokee Nation Principal Chief Bill John Baker. "Because the Cherokee language is listed as endangered by the United Nations Atlas of World's Most Endangered Languages, it's important we have multiple ways to teach and share our native tongue."
The Cherokee National Youth Choir previously performed with Foreigner at Hard Rock Hotel & Casino Tulsa, singing the chorus for "I Want to Know What Love is" in Cherokee.
The choir was also invited to sing with the band Thursday night in Tulsa.
The choir will use the $10,000 award for travel expenses to future appearances and for studio recording time for their next CD.
Foreigner is known for hits like "Cold as Ice," "Waiting for a Girl Like You" and "Jukebox Hero."
Foreigner and the GRAMMY Foundation have a longtime relationship to foster music programs in the nation's schools. Foreigner has donated more than $600,000 to schools and other causes over the past few years.
For more information on Foreigner visit http://www.foreigneronline.com. For more information on the Cherokee National Youth Choir visit http://www.cherokee.org and under services click under the education tab.
-30-
About Cherokee Nation
The Cherokee Nation is the federally recognized government of the Cherokee people and has inherent sovereign status recognized by treaty and law. The seat of tribal government is the W.W. Keeler Complex near Tahlequah, Oklahoma, the capital of the Cherokee Nation. With more than 300,000 citizens, 9,000 employees and a variety of tribal enterprises ranging from aerospace and defense contracts to entertainment venues, Cherokee Nation is one of the largest employers in northeastern Oklahoma and the largest tribal nation in the United States.
To learn more, please visit http://www.cherokee.org.
Editor's note: Find all the latest Cherokee Nation news at http://www.anadisgoi.com.