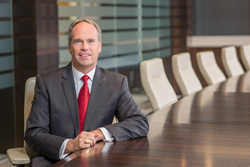 ATK is pleased to partner with the State of Utah as it establishes a new, global headquarters for Vista Outdoor
Salt Lake City, UTAH (PRWEB) November 13, 2014
ATK, along with the Governor's Office of Economic Development (GOED), announced today the decision to locate its proposed spin-off company's corporate headquarters in Utah. The company, Vista Outdoor Inc., is considering several sites for its new, consolidated headquarters, including Salt Lake, Davis and Weber Counties.
In April 2014, ATK's Board of Directors unanimously approved a plan to create two independent, public companies, which involves the spin-off of ATK's sporting business to a new, publicly traded company, Vista Outdoor. The company will be a leading global designer, manufacturer and marketer in the growing outdoor sports and recreation markets. ATK currently owns 30 widely known and respected outdoor brands in the industry, including Federal Premium, Bushnell, Primos, BLACKHAWK! and Savage Arms.
"The addition of Vista Outdoor to Utah will bring new, high-paying jobs to an industry that is highly important to the state," said Val Hale, executive director of GOED. "The Outdoor Industry Association's latest economic report indicated that for every dollar that consumers spend on outdoor gear and recreational vehicles, they will spend four times that using the product."
Vista Outdoor will have manufacturing operations and facilities in approximately 10 states, including Gold Tip in Orem, Utah, along with international sales and sourcing locations. The company will employ approximately 5,800 skilled workers worldwide.
"ATK is pleased to partner with the State of Utah as it establishes a new, global headquarters for Vista Outdoor," said Mark DeYoung, ATK president and chief executive officer (CEO). DeYoung, a Utah native, has been named as the chairman and CEO for Vista Outdoor. "Utah's talented and well-educated workforce, high quality of life, appeal to outdoor enthusiasts, and increasing position as hub for outdoor recreation companies support our decision to establish and consolidate the headquarters for this new and exciting company."
"EDCUtah is excited that Vista Outdoors has made the decision to locate their new global headquarters in Utah," said Jeff Edwards, president and CEO of the Economic Development Corporation of Utah. "We expect Vista will quickly become an important part of the outdoor product industry in the state."
Vista Outdoor intends to create approximately 90 new jobs over the next seven years. The total wages, including medical benefits, in aggregate are expected to exceed 125 percent of the county average wage. The projected new state wages over the life of the agreement are expected to be approximately $125,160,000. Projected new state tax revenues, as a result of corporate, payroll and sales taxes, are estimated to be $6,723,802 over seven years. The new Vista Outdoor facility has the potential to result in an expected capital investment of $10 million.
As part of a contract with Vista Outdoor, the GOED Board of Directors has approved up to a maximum tax credit of $1,344,760 in the form of a post-performance Economic Development Tax Increment Finance (EDTIF) incentive, which is 20 percent of the new state taxes Vista Outdoor will pay over the seven-year life of the agreement. Each year as Vista Outdoor meets the criteria in its contract with the state, it will earn a portion of the total tax credit incentive.
ATK Sporting Group Portfolio of Brands:
Alliant Powder
American Eagle
Bee Stinger
BLACKHAWK!
Blazer
Bollé
Bushnell
Butler Creek
CCI
Cébé
Champion
Eagle
Federal Cartridge
Federal Premium
Fusion
Gold Tip
GunMate
Gunslick Pro
Hoppe's
Millett
Night Optics USA, Inc.
Outers
Primos
RCBS
Savage Arms
Savage Range Systems
Serengeti
Simmons
Speer
Stevens
Stoney Point
Tasco
Uncle Mike's
Weaver
###
About the Utah Governor's Office of Economic Development (GOED)
Web: business.utah.gov
The Governor's Office of Economic Development (GOED) charter is based on Governor Gary Herbert's commitment to economic development statewide. Utah's economic development vision is that Utah will lead the nation as the best performing economy and be recognized as a premier global business destination. The mandate for this office is to provide rich business resources for the creation, growth and recruitment of companies to Utah and to increase tourism and film production in the state. GOED accomplishes this mission through the administration of programs that are based around targeted industries or "economic clusters" that demonstrate the best potential for development. GOED utilizes state resources and private sector contracts to fulfill its mission. For more information please contact: Michael Sullivan, 801-538-8811 or mgsullivan(at)utah(dot)gov
About ATK
ATK is an aerospace, defense, and outdoor sports and recreation company with operations in 21 states, Puerto Rico, and internationally. For information about the proposed transaction, as well as news and information on ATK, visit http://www.atk.com.