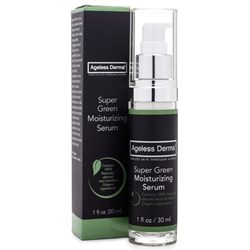 Irvine, California (PRWEB) November 21, 2014
The well-known skin care company, Ageless Derma, introduces its latest innovation in organic anti-aging skin care with the development of a powerfully moisturizing and protective product. The Super Green Moisturizing Serum contains certified organic ingredients that moisturize, protect, and beautify skin in a safe, non-toxic manner.
When Ageless Derma went into development of its Super Green Moisturizing Serum, they knew they wanted this moisturizing serum to contain organically certified ingredients that would also be packaged in an environmentally sensitive manner. To that end, the company has succeeded. Ecocert, a well-regarded certification organization located in France, has certified the natural ingredients in the serum as organic. Many ingredients have also been certified by the Environment Working Group Cosmetics Database as non-toxic botanical ingredients and have been 100% naturally derived.
The Super Green Moisturizing Serum is completely natural, safe and has not been tested on animals. This Ageless Derma product is a boon to skin, leaving it feeling completely hydrated, silky, soft and glowing with renewed health. The benefits of using this moisturizing agent are multi-faceted due to its mix of botanical and antioxidant ingredients.
One of the main effective ingredients in Super Green Moisturizing Serum is Aquaxyl®, a derivative of two botanically derived sugars. Aquaxyl® has been proven in clinical studies to hold moisture in and limit its loss. The Ecocert certification body for natural and organic cosmetics verifies that this important ingredient works to keep skin highly hydrated. Sea Buckthorn Seed Oil is placed within Ageless Derma's Super Green Moisturizing Serum because of its high concentrations of natural antioxidants. Environmental toxins cause damage to the skin's surface from within; this botanical antioxidant protects skin from toxins, thereby adding an extra layer of protection and health to skin.
Other ingredients added to this serum include natural shea butter, sodium hyaluronate plus certified organic chamomile, aloe and olive leaf extracts.
The developers at Ageless Derma Skin Care believe they are making something extraordinary happen. Their line of physician-grade skin care items incorporates an important philosophy: promoting overall skin health by delivering the most cutting-edge biotechnology and natural ingredients to all of the skin's layers. This attitude still resonates today with company founder, Dr. Farid Mostamand, who nearly a decade ago began his journey to deliver the best skin care options for people who want to have healthy and beautiful looking skin at any age. About their latest product, Dr. Mostamand says, "Our Super Green Moisturizing Serum is a powerhouse moisturizer that sinks in yet feels lightweight, as it repairs and revitalizes skin. Anyone who wishes to protect skin against the elements and remain looking young and refreshed will benefit from using this organically based product. "
Ageless Derma products are formulated in FDA-approved Labs. All ingredients are inspired by nature and enhanced by science. Ageless Derma products do not contain parabens or any other harsh chemicals, and they are never tested on animals. The company has formulated five unique lines of products to address any skin type and skin condition.