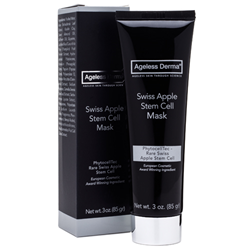 Irvine, California (PRWEB) November 27, 2014
The Ageless Derma skin care company has just released their latest development in the form of a facial mask that exfoliates skin with ingredients such as apple stem cells to renew the complexion and correct texture and tone. The company's Swiss Apple Stem Cell Mask incorporates the cells of a long-living rare apple with other revitalizing ingredients from nature to result in a gentle mask that is effective and calming.
The Swiss apple, Malus Domestica, has its beginnings that go as far back as 18th century Switzerland. Ageless Derma recognized the importance of this plant's stem cell extract for its ability to keep the fruit fresh for extended periods of time without wrinkling or shriveling. The Swiss Apple Stem Cell Mask contains the scientific advances that come from the cultivation of these stem cells, having incorporated it into a powerful and effective facial mask to rejuvenate skin and keep wrinkles at bay.
The Swiss Apple Stem Cell Mask contains other natural ingredients that work together to keep skin at its purest and return youthful life to the complexion. Kaolin Clay from the earth absorbs toxins that can enter the skin's surface due to environmental pollutants in the air. The clay helps draw out grime and purify skin. Sweet Almond Oil nourishes skin, and adds much needed moisture and smoothness. Safflower Oil improves the texture of skin; especially skin that has become roughened with time and sun exposure. The Safflower Oil in Swiss Apple Stem Cell Mask also locks in moisture and tones skin for a flawless and radiant complexion.
Ageless Derma added fruit extracts to the Swiss Apple Stem Cell Mask for added health and radiance. Pumpkin Fruit Ferment, Pineapple Enzyme, and Papaya Enzyme make this mask luscious and plush. Age-defying antioxidants are also included, with Green Tea Extract and Aloe Leaf Extract added for soothing and fighting free radicals.
The developers at Ageless Derma Skin Care know they are making something extraordinary happen. Their line of physician-grade skin care items incorporates an important philosophy: promoting overall skin health by delivering the most cutting-edge biotechnology and pure, natural ingredients to all of the skin's layers. This attitude continues to resonate to this day with the company's founder, Dr. Farid Mostamand, who nearly a decade ago began his journey to deliver the best skin care alternatives for people who want to have healthy and beautiful looking skin at any age. About this latest Ageless Derma product, Dr. Mostamand says, "This natural enzymatic Swiss Apple Stem Cell Mask gently exfoliates dead skin cells that are blocking new cell turnover for a renewed and radiant complexion. This is accomplished without the use of unnatural chemicals that can harm your skin's delicate balance."
Ageless Derma products are formulated in FDA-approved Labs. All ingredients are inspired by nature and enhanced by science. Ageless Derma products do not contain parabens or any other harsh additives, and they are never tested on animals. The company has developed five unique lines of products to address any skin type or condition.