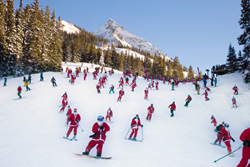 Gunnison-Crested Butte, Colorado (PRWEB) November 14, 2014
The lights are being hung, snow is falling on the mountaintops and trails, and a full calendar of holiday events is being prepared for a spectacular December in Gunnison-Crested Butte, Colo. The season for snowy fun kicks off this week with Crested Butte Nordic Center opening Nov. 15, and closer to Thanksgiving Crested Butte Mountain Resort welcoming skiers and boarders starting Nov. 26 with free ski day.
In the spirit of the season, the Gunnison-Crested Butte Tourism Association offers seven ways to unwrap the holidays, with more ideas found in travel blogs that are written by locals and visitors who have a passion for the area.
1. SANTA SIGHTINGS & TREE LIGHTINGS
It will be a day for red suits and white beards in Crested Butte on Dec. 13 as the town attempts to secure a spot in the Guinness Book of World Records for number of Santas skiing during the second annual Santa Ski & Crawl. It also marks the lowest cost lift ticket for the season (other than free skiing for everyone on opening day, Nov. 26), with a rate of $22 for skiers and snowboarders who wear a full Santa suit that includes top, bottom, hat and beard. Either wear your own Santa costume or buy one through the event for only $20 with child and adult sizes available.
All Santas are invited to ski as a group from the mid-mountain Uley's Cabin to the ski area base at 3:30 p.m. Those ages 21 and over can begin the Santa Crawl at Uley's, continue at the slopeside Butte 66 and finish at three locations in downtown Crested Butte. The pre-registration cost for the Santa Pub Crawl is $25 (including a Santa suit and drink tickets) and goes up to $30 the day of the event. To get into the spirit, check out the video from last year.
To make a weekend out of it, KBUT Radio is hosting a special Santa Crawl Bingo for adults on Dec. 12. For families and those who want to steer clear of Santa's naughty list and go for the nice option, Light Up Nights kindle holiday cheer on Friday, Dec. 12 in Crested Butte and Saturday, Dec. 13 in Mt. Crested Butte, both starting at 5 p.m. In Crested Butte, the crowd parades down historic Elk Avenue to the Post Office with Santa aboard a shiny fire engine to witness a tree lighting, enjoy live entertainment and more. In Mt. Crested Butte, it's all about the tree lighting in Mountaineer Square, a Santa visit, s'mores around the fire, shopping deals and other surprises.
For kids who are a little more anxious to present their lists, Santa is visiting Crested Butte Mountain Heritage Museum on Dec. 7, with crafts, cookies and hot cocoa available. He returns to the Gunnison on Dec. 20 for Breakfast with Santa at the Gunnison Community/Aquatics Center from 9 – 11 a.m. Crafts and other activities will be available, and the admission cost is $5.
2. HOLIDAYS AGLOW
Gunnison not only lights a colossal Christmas tree at the end of Main Street with Santa flipping the switch, the town goes all out during Night of Lights on Dec. 5. Lighted displays line several blocks of historic downtown and businesses serve treats and host bonfires along the way to warm up and toast marshmallows. After the tree lighting, Santa is available for photos and visits with kids.
Crested Butte Mountain Resort pulls out all the stops on Christmas Eve and New Year's Eve with stunning torchlight parades. Christmas Eve begins with Santa descending the mountain in a snowcat-pulled sleigh before Crested Butte Ski and Ride School instructors schuss down the mountain with torches in hand. New Year's Eve is even more spectacular with a fireworks show after the parade.
3. CANOPY & STARS IN A MOUNTAIN YURT
Ski or snowshoe one mile on easy groomed trails to Crested Butte Nordic's Magic Meadows Yurt for holiday celebrations made for the memory books. At Yurt Dinners on Dec. 20 and 27, appetizers are served and live music begins at 6 p.m., followed by salad, soup, entrée (choice of Paradise Chicken, Steak Au Poivre, Encrusted Filet of Salmon or Wild Mushroom Risotto), and dessert. The cost is $75 for adults and $40 for kids under age 12, with the price including a trail pass, equipment and dinner. Gratuity and beverages are extra.
At the 6th annual New Year's Eve Yurt Dinner, doors open at 7 p.m., and the slightly higher cost of $90 includes beer and wine. There is an option for the New Year's Eve yurt party only, which begins at 10:30 p.m. and features a DJ for music. The $35 cost includes a trail pass, beer, wine, and a celebratory toast at midnight. For those who want to partake in the entire evening, the cost is $120.
4. FESTIVE SLEIGH RIDE DINNERS
If a gourmet dinner in the woods sounds divine but getting there on your own power sounds too tiring, an open sleigh pulled by a snow cat magically travels to Crested Butte Mountain Resort's mid-mountain Uley's Cabin on Wednesday, Thursday, Friday and Saturday evenings throughout the winter season. Or, join Lazy F Bar Ranch near Crested Butte for a horse-drawn sleigh ride to dinner in a cabin along the East River, offered only during the holidays from Dec. 15 – Jan. 10.
5. THE GIFT OF SOMETHING NEW
Crested Butte Mountain Resort has reintroduced tubing to its mix of snowy fun just in time for the holidays. It's perfect for kiddos who are still full of energy even after a full day on the slopes, and teens and adults can check out the new snow bike rental fleet. A two-hour lesson, complete with guided tour around the mountain, is required before exploring solo.
Not to be confused with snow bikes, fat bikes are essentially mountain bikes with huge tires that can tackle snowy trails and be rented at Big Al's Bicycle Heaven in Crested Butte and Crested Butte Sports in Mt. Crested Butte. There is even the first of a series of three fat bike races on Dec. 21 that will be held in Crested Butte's Magic Meadows area.
6. THE ARTS SCENE SPARKLES
The Gunnison-Crested Butte Valley isn't just about outdoor adventure and great food, its home to a thriving arts scene with the Gunnison Arts Center in the south and Center for the Arts Crested Butte in the north, with many art galleries and studios located in both towns. Gunnison Arts Center has a holiday market, perfect for finding locally handcrafted gifts from Dec. 9 – 24. First Friday Art Walk & Music happens in Gunnison on Dec. 5, and ArtWalk Evening in Crested Butte is sure to dazzle on Dec. 31.
A Starry Night by Van Gogh reCreation workshop on Dec. 11 held at the Sweet Spot in Mt. Crested Butte and Cards & Cocktails Workshop on Dec. 18 at Gunnison Arts Center, along with paint-your-own pottery sessions at GAC and Art Studio of the Center for the Arts in Crested Butte, provide great options for getting creative and making gifts.
On stage, Crested Butte Mountain Theatre presents "Christmas Thieves" from Dec. 16 – 23, and a Due West Christmas concert is planned for Dec. 20 at Center for the Arts Crested Butte.
7. GREAT HOLIDAY TRAVEL DEALS
Enjoy a ski holiday and spend only $999 for a family of four (two adults and two children ages 17 and under) with Crested Butte Mountain Resort's The Grandest Christmas package. This deal includes four nights of lodging at Grand Lodge and three days of skiing. This package is good for stays from Dec. 12 - 27, 2014, subject to availability and must be booked by Dec. 22. Price is prior to fees and taxes.
Find additional winter travel deals at http://www.GunnisonCrestedButte.com/deals.
Vacation Packages & Visitor Information
To save on flights, hotel rooms, vacation packages, car rentals and more, go to http://www.VisitGCB.com. Also visit [Facebook.