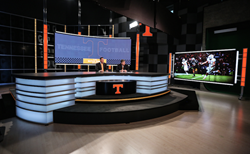 "The UT broadcast set is unique in its scale. Many studios do not have the area or height for such a massive set.
Ocoee, FL (PRWEB) November 24, 2014
If you want to play in the SEC, you've got to play big or go home. The University of Tennessee embodies that not only on the field, but in every aspect of their athletic program. FX Design Group just completed a larger-than-life broadcast television set in the Ray and Lucy Hand Digital Studio that takes the Vols to an even higher level since Neyland Stadium is the 4th largest stadium in America.
The scope of this project called for the A-Team, which included AJP, the designer / consultant; Unity Systems Integration(formerly Hughes Integration), as the integration team; Rouse Construction as General Contractor; Cope McCarty as Architects; and FX Design Group for the set build, fabrication and installation.
"The UT broadcast set is unique in its scale, said Brannen Acor, FX Production Manager. Many studios do not have the area or height for such a massive set. For instance, the Chroma key area is approximately double in height than those typically found in broadcast news studios. One rarely sees a 19 foot wide anchor desk."
Challenges are part of any project, but the collaborative process that FX Design group is known for, really made this set a group effort. The set had to be constructed with materials that maintain structural integrity, as well as keep their original luster, all while holding up to daily use. The UT set pieces are viewed from both sides, which created challenges for fabrication as the FX team had to develop ways to connect both sides without visible fasteners or hardware.
Customization is the key. FX, when faced with a camera left (CL) and camera right (CR) grid that was 18 feet tall, had to use minimal framing to create space between them for internally lit columns. The solution was to customize aluminum extrusions to create a shape not available for purchase. They used this for the edges of the walls, which stabilized the huge
grid wall sections while also creating a hollow area used for the lighting elements between the wall sections.
The overall set is bathed in the UT orange the primary color of the Vols and makes a massive imprint for viewers and those visiting the stadium.
FX Design Group appreciated working with AJP and Unity Systems Integration and the weekly conference calls for troubleshooting. Together, they all were all able to stay on pace with the production timeline and deliver for the Ray and Lucy Hand Digital Studio and Vols fans at UT.
"The collaboration of all parties involved, when a potential problem had been identified, has been impressive and a joy to be a part of, in finding a successful solution every time," said Bonnie Barclay, VP of Marketing at FX. "It was a great team that was assembled, and FX Design Group is pleased to be part of such an exciting project."
# # #
About FX DESIGN GROUP:
FX Design Group is a design company delivering projects worldwide in broadcast for News, Talk Shows, Lifestyle, Sports and Entertainment programming. FX gives clients access to a complete compliment of set design, virtual design, motion graphic design and branding, fabrication and installation services, as well as lighting design and lighting gear – all from one source. The FX collaborative process focuses on creative synergy, versatility and logistical efficiencies to maximize clients' budgets, aesthetics and multi-functionality. To learn more about FX Design Group please visit http://www.fxgroup.tv.