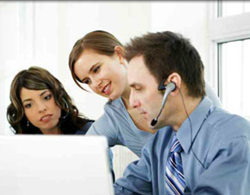 "Reliable IT's broad scope of service offerings allows a partner to create a customized service and support program..."
Woburn, MA (PRWEB) November 17, 2014
The Reliable IT Channel division is helping partners nationwide remain competitive in today's saturated technology market by supplementing their offerings with services that cover every aspect of potential and current client needs.
Today's competitive environment mandates that companies differentiate themselves in order to win new business or maintain customer loyalty. One way to differentiate is to provide a one-stop shop technology solution to customers. Reliable IT provides nationwide onsite and remote IT on-demand services that will fill gaps in a partner's skills and territory coverage. Additionally, Reliable IT's annuity-based services provide the opportunity for recurring revenue that supports business growth.
"Reliable IT's broad scope of service offerings allows a partner to create a customized service and support program that extends their own particular niche. This allows a partner to focus on their strengths while Reliable IT rounds out the partner's offering to prospects and clients," said Nick DePasquale, Vice President of Reliable IT's Channel division.
Offering an impressive 98% coverage, with at least one certified technician within 25 miles of any zip code, Reliable IT can handle a variety of on-demand technology needs including hardware and software troubleshooting, nationwide deployment rollouts and technology upgrades. Fixed-price services are easy to request via a web-based portal and standard service level is next business day with optional same day response.
Annuity-based managed IT services give partners the ability to act as their client's entire IT department or take on specific tasks such as help desk, patch management or network monitoring to help support the client's IT team.
Potential partners are invited to connect with the channel team by filling out a convenient form found at http://www.rit-ondemand.com.
About Reliable IT
Reliable IT is a nationwide provider of information technology and services. For over 20 years, Reliable IT has offered solutions through its two divisions. The VAR division specializes in technology implementation and managed services. The channel division offers on-site and managed services to customers who need local resources to support their customers. The company, headquartered in Woburn, MA, has offices in East Providence, RI; Houston, TX; San Antonio, TX; Austin, TX; Alexandria, LA; and Tustin, CA. For more information, please visit http://www.reliable-it.net.