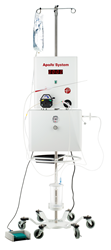 I am grateful that we are finally making progress in an all too frequent and extremely incapacitating and fatal condition. I think the arrival of the Apollo System is very timely.
Morristown, NJ (PRWEB) November 17, 2014
The Apollo™ System, manufactured by California-based Penumbra, Inc., was used for the first time in New Jersey and the outcome was a success.
Apollo is an innovative new surgical tool that enables minimally invasive removal of deeply seated, blood clots in the brain during a single, efficient operation. With combined use of an endoscope and image guidance, the Apollo System allows decompression and removal of otherwise inoperable clots deep in the brain, among other uses.
Dr. Ron Benitez, a nationally renowned neurosurgeon and president of Atlantic NeuroSurgical Specialists (ANS), successfully treated the first patient in New Jersey using the Apollo device. Dr. Benitez explains: "Our first patient was a 63 –year- old female who suffered from hypertension. I knew this patient was at risk for time-sensitive, irreversible damage to the brain due to pressure and clot formation. For this patient, I was concerned her need was more urgent, and that the Apollo System would facilitate the same surgical result in minutes, rather than days utilizing medical managements that we did in the past that could result in brain damage or even death.
"Following successful clot removal with the Apollo System, our patient improved and we were able to remove brain pressure monitors and breathing support over the next few days. As opposed to facing several weeks comatose in the intensive care unit, our patient was awake and moved from the unit within a few days.
"I am grateful that we are finally making progress in an all too frequent and extremely incapacitating and fatal condition. I think the arrival of the Apollo System is very timely. I'm confident that use of the Apollo System will result in faster patient recovery and a shortened stay in the intensive care unit," Dr. Benitez concluded.
The endovascular team at ANS looks forward to future success using the Apollo System, in conjunction with neuroendoscopy and image guidance, for the removal of hemorrhages in the brain. This technique has the potential to be a truly important advancement in the field, since no other treatment has convincingly been shown to help patients with this lethal condition. Usually patients with this type of hemorrhagic stroke have very poor outcomes and extremely long hospital stays. Just hours after the treatment, this patient began showing improvement.
The ANS endovascular team points out that in earlier trials for minimally invasive surgery for intracerebral hemorrhage evacuation, they observed higher rates of good clinical outcomes when they achieved near complete removal of blood clots. The problem was this degree of clot removal was not achieved in most patients and required several days of drainage through small catheter left in place after surgery. With the new Apollo System, it seems they may be able to achieve the sought- after level of clot reduction immediately and safely in most patients. Therefore, it is possible that the ANS endovascular team will continue to observe benefits that surpass former expectations.
The Apollo System is the result of decades of research and development work in the field of advanced aspiration and vibrational energy technology by researchers at Penumbra. Advanced aspiration technology was first developed and perfected in the field of acute ischemic stroke where blood clots inside the arteries of the brain are starving brain tissue of vital oxygen and nutrients. The Apollo System adds internal energy generation to a specialized advanced aspiration tool to surgically address deep bleeding in the brain, a particularly devastating form of acute hemorrhagic stroke.
ABOUT The Apollo™ System
The Apollo System combines vacuum, irrigation, and a proprietary internal vibrational energy to ensure rapid fluid and tissue removal during minimally invasive neurosurgery through the smallest possible channel without clogging. The Apollo System is used for the controlled aspiration of tissue and/or fluid during surgery of the ventricular system. The Apollo disposable wand is inserted through the working channel of a neuroendoscopic trocar.
ABOUT ANS
ANS is the largest private neurosurgical practice in NJ. In practice for over 50 years, ANS has paved the way for patients to receive the most ground-breaking treatments for all of their neurosurgical needs. Their sub specialized team of surgeons allows patients to receive a comprehensive approach with expertise specific to each patient's condition. ANS is also the leader in stroke treatment in New Jersey and lead the stroke rescue teams at the 3 major comprehensive stroke centers in the state. For more information about ANS visit http://www.ansdocs.com or call 973.285.7800.