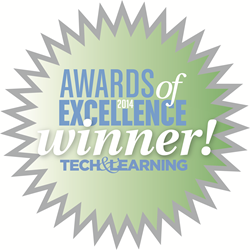 ...this award validates that our platform is an effective solution for bridging the gap between industry and education...
Dallas, TX (PRWEB) November 17, 2014
Nepris has been named by Tech & Learning magazine as a top education technology product for K-12 schools. Nepris is a cloud-based platform that virtually connects professionals to classrooms for online, interactive discussions covering the spectrum of STEM (science, technology, engineering and math) careers. Click to Tweet.
Bringing adults who work in STEM careers (and now STEAM which includes the arts) to schools is traditionally a logistical challenge for schools. The pool of available professionals is small and few can afford to take time off to visit a school in person. Nepris, however, has created a community of professionals who will talk with classes virtually, which saves time and vastly increases the pool of people to choose from.
Teachers enter their needs into the Nepris platform, they identify learning standard correlations and intended outcomes and then Nepris automatically matches requests to professionals' skills. Then Nepris manages the end-to-end process of virtually bringing the professional into the classroom for an interactive discussion.
"The Awards of Excellence from Tech & Learning are highly respected for identifying the most exciting and effective education technology products," said Sabari Raja, CEO and founder of Nepris. "We are honored that Nepris was selected for this award, which validates that our platform is an effective solution for bridging the gap between industry and education to boost STEM awareness."
Nepris, launched in early 2014, was picked as one of the best New Products. Kevin Hogan, content director at Tech & Learning said, "Once again this year our judges had the pleasurable duty to evaluate more than 150 edtech products. Each is put through the proverbial wringer: How well does it work in the classroom environment? How easy is it for students and teacher to use? And, most importantly, how effective is it in improving learning? Not a simple task. Congratulations to all of the winners."
Professionals and educators can see archived sessions and enroll their company or school at Nepris.com. Companies can sponsor teachers, schools or districts. Individual teachers from elementary, middle or high schools can sign up for a free trial at any time.
About Nepris
Dallas-based, Nepris, brings STEM to life by connecting professionals with teachers and their students. With Nepris, teachers find professionals who--through interactive, online sessions--show students how the work they do is rooted in the science, technology, engineering and mathematics being taught in school. See Nepris in action at Nepris.com/webinar or sign-up as a teacher or STEM professional at Nepris.com.