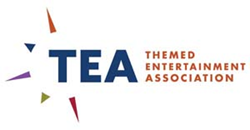 The Thea Award is considered one of the themed entertainment industry's highest honors.
Burbank, Calif. USA (PRWEB) November 18, 2014
The Themed Entertainment Association (TEA), the international alliance for the creators of compelling places and experiences, announced the new slate of recipients for the 21st Annual Thea Awards – to be formally honored March 21, 2015 at the Thea Awards Gala in Anaheim (Calif.), sponsored by AECOM.
"Each Thea-honored project represents a step forward in the themed entertainment industry and its collective drive toward excellence. We encourage the public and the press to learn about these achievements, and to celebrate with us." -- TEA incoming president Steve Birket, Birket Engineering
More information/images: http://www.teaconnect.org.
21st ANNUAL THEA AWARD RECIPIENTS
The Thea Awards Nominating Committee of the Themed Entertainment Association (TEA) recommended 17 award recipients, with final approval by the TEA Board of Directors.
THE BUZZ PRICE THEA AWARD – Recognizing a Lifetime of Distinguished Achievements
Ron Miziker, Miziker Entertainment Group
THEA CLASSIC AWARD
"it's a small world," Disneyland (Anaheim, Calif. USA)
THEA AWARDS FOR OUTSTANDING ACHIEVEMENT
The Time Machine, Parc du Futuroscope (Poitiers, France) - Attraction Rehab on a Limited Budget
Chimelong Ocean Kingdom (Zhuhai, China) - Theme Park
Gratassland "The Land of the Little Grey Tractor," Kongeparken (Norway) – New Park Land, Limited Budget
Wilderness Explorers, Disney's Animal Kingdom, Walt Disney World (Orlando) - Attraction, Limited Budget
National September 11 Memorial Museum (New York City, USA) – Extraordinary Cultural Achievement
Wonder Rooms at Gemeentemuseum (The Hague) - Museum Exhibit
Nature Lab, Natural History Museum of Los Angeles County - Museum Exhibition, Limited Budget
The Legend of Lady White Snake (Zhenjiang, China) - Event Spectacular
The Grand Hall Experience at Saint Louis Union Station (Saint Louis, USA) - Live Show, Limited Budget
Wings of Time (Sentosa Island, Singapore) - Event Spectacular
Bistrot Chéz Remy, Walt Disney Studios Park (Disneyland Paris) - Themed Restaurant
The StoryGarden at The Amorepacific Beauty Campus (Gyeonggi-do, South Korea) – Corporate Brand-Land
Wizarding World of Harry Potter, Universal Studios Florida (Orlando) - Paragon Award
(specifically honoring Diagon Alley, Hogwarts Express and Diagon Alley Retail/Dining)
Harry Potter & The Escape from Gringotts, Universal Studios Florida (Orlando) - Attraction
Interactive Wands – Wizarding World of Harry Potter, Universal Studios Florida - Technical Excellence
ABOUT TEA
The TEA (Themed Entertainment Association) is an international nonprofit alliance founded in 1991 and based in Burbank, Calif. Some 1,000 TEA members represent roughly 8,000 creative specialists, from architects to designers, technical specialists to master planners, scenic fabricators to artists, and builders to feasibility analysts working in 30 US states and 32 different countries.
ABOUT THE THEA AWARDS
The Thea Awards, sponsored by Economics at AECOM, were created by the Themed Entertainment Association (TEA) to help realize a key mission of the association: bringing recognition to achievement, talent and personal excellence within the themed entertainment industry. From a modest beginning in 1994, the Thea Awards have become internationally recognized as a symbol of excellence. The public is welcome to attend the black-tie 21st Annual Thea Awards Gala, which will be held March 21, 2015 at the Disneyland Hotel, Disneyland Resort, Anaheim Calif. USA. Tickets go on sale in early 2015.
About Economics at AECOM (Thea Awards Gala title sponsor)
Economics at AECOM (formerly ERA/Economics Research Associates) is an international consulting firm focused on economic analysis for the entertainment and leisure industry, real estate development, public-policy analysis, tourism, and economic development.