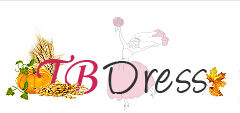 (PRWEB) November 16, 2014
Tbdress.com, one of the world's largest women's dresses retailers, is now announcing its Special Friday Knitwear sale is coming soon; the promotion will open on Nov. 28, 2014.
It is time for people and businesses worldwide to buy and sell products in a big quantity. Tbdress.com is a famous dress company focused on designing and making chic wedding dresses, evening dresses, prom dresses and more. This business is ready for Thanksgiving and other festivals in this holiday season.
At the promotion, people can enjoy the site-wide promotion, up to 75% off, at this website. Tbdress.com has recently updated its website with its new knitwear collection and more. Now, ladies can buy what they want to buy with a few clicks of a mouse. Visit: tbdress.com/Topic/Black-Friday-Knitwear-Deals-5-100522/
The CEO of the company says, "I'm really excited about the benefits Tbdress can deliver to our global clients. With a full range of women's outfits at various levels of prices, our goods are competitive and attractive. Our response to customers' questions is quick and professional. It is not easy to buy good outwears at affordable prices online, but Tbdress.com is absolutely your first choice."
He adds, "Our online store is going to give folks in the world, many of whom are only familiar with us through our catalog and web site, the access to trendy dresses at affordable prices; they will feel the true essence of our brand in person, just in time for the holiday season."
About Tbdress.com
Tbdress.com is offering extensive and stylish collections of wedding dresses and other special-occasion dresses at acceptable low prices, and its products include a wide range of wedding dresses, evening dresses, prom dresses, and more. They vow to provide trendy wedding dresses without sacrificing the dress quality. For more details about Black Friday online shopping, please visit http://www.tbdress.com/