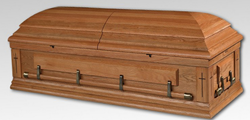 (PRWEB) November 17, 2014
Recently, MillionaireCasket.com, a leading casket designer and manufacturer from China, has launched a maple casket promotion. This promotion is valid before Nov. 30, 2014.
As a mater of fact, MillionaireCasket.com has a lot of experience in the funeral product industry. It is famous for its quality products and reasonable prices. In order to appreciate its customers, the company provides a big discount. The company's chief executive officer states that worldwide clients can get the new items and know more information on its website. Especially, people who want to buy cheap maple caskets can look through the website.
As a pioneer in this field, MillionaireCasket.com has invested a large amount of money in the technology for better casket making. Besides oak caskets, it is also offering thousands of top-quality products on the internet, covering poplar caskets, oak caskets, cherry caskets and many others. Consumers can always get useful products at inexpensive prices in convenient ways.
The company is making massive efforts to be an advanced casket producer in the world. All its workers are now trying their best to produce excellent funeral items for clients.
About MillionaireCasket.com
MillionaireCasket.com is a leading casket company that focuses on the business of casket wholesale. This company offers an exquisitely crafted line of all kinds of metal caskets, solid wood caskets, veneer caskets, cremation caskets, rental caskets, orthodox caskets, infant or over-sized caskets and European style coffins. The standard quality control policy is strictly applied here, and a third party quality assurance is also available. More information about the company and its quality products can be found at http://www.millionairecasket.com/75-maple-caskets