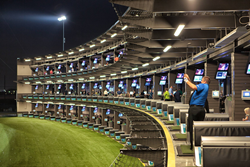 More than 1,500 people auditioned at the most recent Topgolf opening, so I would encourage interested San Antonio residents to apply early.
San Antonio, TX (PRWEB) November 17, 2014
Golf entertainment leader Topgolf International, Inc. today announced it has begun hiring associates for its San Antonio location, set to open in January. Approximately 450 new jobs have been posted online at topgolf.com/careers, and auditions will take place throughout December and January.
Available positions range from servers and bartenders to kitchen, maintenance and guest services staff, plus many more. Interested applicants should register to attend one of the upcoming recruitment events, which feature several fun and interactive activities, including:

Idea Factory – Applicants get creative to plan a special event for Topgolf
Team-Building Challenges
One-on-one Interviews
X-Factor-style Panel Interviews – Applicants speak or perform for two minutes about a topic of their choice
This will be the first Topgolf® location in San Antonio. It is the only entertainment center of its kind, offering competitive golfing games for all ages and skill levels and advanced technology to track players' shots. Those who just want to relax can enjoy the upscale, laid-back ambiance that boasts more than 230 high-definition flat-screen TVs and an extensive food and beverage menu.
"Topgolf puts its own flair on the hiring and training process," said Topgolf Director of Talent Management Deslyn Douglas. "We take remarkable care in selecting our associates and equipping them with the information and tools they need to be successful. Of course, we make sure everyone has fun in the meantime."
According to its website, Topgolf is "seeking dazzling people who are keen to share their ideas, inspire others and go above and beyond, approaching every task with energy and pride."
Associates who are hired at the new 65,000-square-foot facility will receive free Topgolf game play, food and beverage discounts, the opportunity to participate in a 401(k) retirement savings program, and many other benefits.
"More than 1,500 people auditioned at the most recent Topgolf opening, so I would encourage interested San Antonio residents to apply early," Douglas said.
Topgolf San Antonio recently began selling game credit and memberships, available for a one-time $5 cost or $80-250 per month, depending on the level of benefits desired. Residents can purchase a Lifetime Membership plus $45 worth of game credit on sale for $20 through Jan. 23. Additionally, the first 150 people to purchase a monthly membership will have the initiation fee waived and will receive an invitation for themselves plus a guest to attend the exclusive Topgolf VIP grand opening party. The evening will include complimentary food, drinks, entertainment and Topgolf play.
For more information about working at Topgolf, visit http://www.topgolf.com/careers.
To purchase one of the pre-opening offers, visit http://www.topgolf.com/sanantonio.
About Topgolf
Topgolf is the emerging global leader in golf entertainment, with 13 locations serving more than 2.7 million guests annually. Players hit golf balls containing computer microchips that track each shot's accuracy and distance while also awarding points for hitting targets on the outfield. Each facility offers an upscale, laid-back experience that features climate-controlled hitting bays and an impressive food and beverage menu crafted by an executive chef. Mix in dynamic event spaces for groups of all sizes, and Topgolf stands as the premier entertainment complex where the competition of sport meets the neighborhood's favorite hangout. To learn more about Topgolf, visit http://www.topgolf.com.
# # #