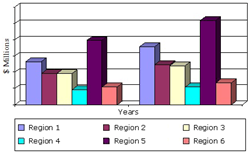 Global Market for North American Residential Flooring Forecast to Reach $16.1 Billion by 2018
Wellesley, Mass. (PRWEB) November 17, 2014
BCC Research (http://www.bccresearch.com) reveals in its new report, Residential Flooring: North American Markets, the North American residential flooring market is expected to reach 14.8 billion in volume of squares and more than $16.1 billion in dollar amount in 2018, increasing at a compound annual growth rate (CAGR) of 4.5% in volume of squares and 5.3% in dollar amount for the period of 2013 to 2018.
Despite the continued increase in the cost of raw materials, demand continues for increasingly popular hardwood flooring products, even though they are higher priced than more economically priced laminate wood flooring. With new residential construction showing signs of life and rebounding, hardwood flooring is a strong choice for a variety of residential environments and applications. New surface technologies have dramatically improved hardwood durability, making a positive impact on overall market demand.
Laminate flooring represents a smaller portion of the residential market, produced by a handful of manufacturers. The residential market has been traditionally challenging for laminate flooring due to specifiers' concerns about its performance.
Residential flooring in 2014 is more than just an offering of traditional products like carpet, luxury vinyl tile or hardwood. Superior performance is a required characteristic across today's residential flooring products. From resilient flooring (in high-traffic flow areas such as hallways and kitchens) to special needs carpet and resilient flooring (such as in-home senior care, for example), residential flooring products need to perform at the highest levels of durability for their intended applications.
"Although the industry was hit hard by the economic downturn of the last decade, the residential flooring industry remains a vital part of the economy and is projected to continue a healthy growth trend throughout the remainder of the second decade of the 21st century," says BCC Research analyst Lisa Marshall. "Due to recent growth signs in the economy, particularly in North America, residential flooring companies are optimistically looking to the future."
Residential Flooring: North American Markets provides a high-level overview of the residential flooring industry, including historical, current and future industry perspectives, as well as a look at current, and anticipated manufacturing issues and trends. Growth forecasts are provided for the period 2013 to 2018.
Editors and reporters who wish to speak with the analyst should contact Steven Cumming at steven.cumming@bccresearch.com.
About BCC Research
BCC Research publishes market research reports that make organizations worldwide more profitable with intelligence that drives smart business decisions. These reports cover today's major industrial and technology sectors, including emerging markets. For more than 40 years, we have helped customers identify new market opportunities with accurate and reliable data and insight, including market sizing, forecasting, industry overviews, and identification of significant trends and key competitors. We partner with analysts who are experts in specific areas of industry and technology, providing unbiased measurements and assessments of global markets. Our clients include the top companies in industries around the world as well as universities, business schools, start-ups, consulting firms and investment companies. Visit our website at http://www.bccresearch.com. Contact us: (+1) 781-489-7301 (U.S. Eastern Time), or E-mail information@bccresearch.com.
Data and analysis extracted from this press release must be accompanied by a statement identifying BCC Research LLC, 49-2 Walnut Park, Wellesley, MA 02481, Telephone: (+1) 781-489-7301; Email: editor@bccresearch.com as the source and publisher. Thank you.