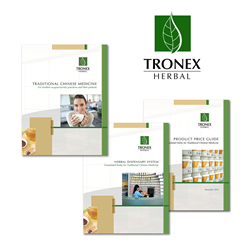 The Tronex Herbal brand stands for universal, natural wellness – a value that transcends cultures in today's global economy.
Mount Olive, NJ (PRWEB) November 19, 2014
Tronex Herbal Solutions, Inc., a premier provider of herbal supplements for Traditional Chinese Medicine, is pleased to announce the release of a new logo design and branding for communications. The new logo design brings impact to match the strength of this growing brand. The new Tronex Herbal collateral system tells a brand story to alternative medicine providers, wellness clinics, and Traditional Chinese Medicine centers of higher education. The new logo embodies simplicity and clarity, while visually emphasizing the brand's breakthrough innovations.
Says Donald Chu, President and CEO of Tronex Herbal Solutions, Inc., "The Tronex Herbal brand stands for universal, natural wellness – a value that transcends cultures in today's global economy. With escalating costs in healthcare, Tronex Herbal benefits all mankind with sustainable herbal solutions."
Tronex Herbal provides granulated herbal supplements to acupuncturists for use with patients. Since granulated herbs receive rigorous testing for authenticity, potency, and purity, Tronex Herbal has embraced a 'clinical organic' brand positioning that reflects care given in manufacturing – from harvest to consumer. The new logotype and mark reflect that strength, process, and organic nature.
Wendy Flanagan, Sr. Director Sales & Marketing at Tronex Herbal, adds, "Tronex Herbal is about much more than Traditional Chinese Medicine. Herbal supplements are the next big thing in the growth-oriented nutraceutical industry across the United States, and Tronex Herbal has updated our logo design to align with our corporate strength, quality, and purity of solutions."
Tronex Herbal shares a culture of information and education that engages a growing audience with the highest quality granulated herbs, offering 'modernized' Traditional Chinese Medicine.
TRONEX HERBAL SOLUTIONS, INC.
Headquartered in the International Trade Center, Mount Olive, NJ, Tronex Herbal Solutions, Inc. has provided the most clinically advanced herbal supplements since 2008. Sourcing from farm to state-of-the-art manufacturing to United States practitioners and patients, every aspect of herbal production is tested and documented to meet cGMP Certification and all U.S. FDA industry requirements. Tronex Herbal Solutions provides professional grade herbal products, both singular and formulated, to help alleviate patients' symptoms with consistency and efficacy. The scientific manufacturing process of natural herbs for Traditional Chinese Medicine is verified by independent testing of every batch for controlled potency, as well as purity from pesticides and heavy metals. Acupuncturists, Herbalists, Naturopaths, and consumers trust Tronex Herbal Solutions to deliver consistent potency of herbs each and every time. To learn more, call 877-263-5119 or visit http://www.TronexRx.com.