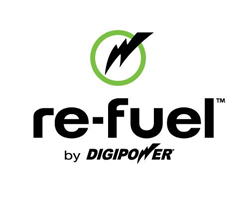 We are responding to consumer grievances regarding the GoPro battery life...we are offering customers 2 solutions..all without worrying about the battery losing charge every 1-2 hours - John Elliot, Senior Product Manager
Avenel, NJ (PRWEB) November 19, 2014
The Re-Fuel series by Digipower is a series of power banks, chargers, and accessories for action cameras, particularly the GoPro Camera Series 3 and 3+. See the entire line at digipowersolutions.com. Re-fuel covers it all for action camera customers with portable chargers, replacement batteries, camera stabilizers, lens protectors, and a full line of Quik Pod products.
Digipower's Re-Fuel ProPack 12 and AdventurePack 24 battery packs for the GoPro Hero 3 series feature extended, continuous recording times. The battery packs seamlessly clip on to the GoPro Hero 3+ housing, and are compatible with all GoPro accessories. Each has an easy to read battery meter right from the GoPro screen, and a "Shake to Read" LED battery gauge/charging indicator. The battery packs are rugged, dustproof and waterproof, up to an IP68 tested 131 feet. A 2A wall charger and USB cable are included with each.
The Digipower Re-Fuel series solves consumer concerns that the batteries that are packaged with the GoPro cameras don't hold a charge for much more than two hours. The Re-Fuel batteries for the GoPro Hero 3 series crush the competition with unprecedented continuous recording and playback time. The battery packs will last for 12 or 24 hours before needing a recharge. Battery life is a critical element of the consumer experience with action cameras, and this extension of life time of the battery will in turn give customers more opportunity to capture even more adventures.
"We are responding to consumer grievances regarding the GoPro battery life. Everyone is saying the GoPro battery just doesn't hold up. We are offering customers two solutions for continuous recording, a 12 hour power pack for a full day of action recording and a 24 hour pack for the weekend adventure. All without worrying about the battery losing charge every 1-2 hours" - John Elliott, Senior Product Manager.
About Digipower: Since 1998, Digipower has pioneered the digital accessory category with strong industry insights and a commitment to unique product design and engineering. Digipower takes pride in introducing compatible, high performance accessories to the mobile computer, wireless and imaging enthusiast.
Digipower continues to strive to explore new solutions in the consumer electronics industry in an effort to support the growing world of portable digital products. Innovations like the TC-55 Digital Camera Travel Charger Series have revolutionized the imaging industry by eliminating the concern of portability and brand compatibility. Today, Digipower is the number one selling line of camera battery and chargers in the country according to NPD.
Digipower is a division of Mizco International. Headquartered in Avenel, New Jersey. Mizco International is one of the world's fastest growing suppliers of mobile phone headsets and accessories, as well as imaging, Smartphone and iPhone power solutions. Founded in 1990, the Mizco family of brands includes Digipower, iEssentials, Travelocity, Ecko Unlimited, Tough Tested, NFL, MLB, and NHL.