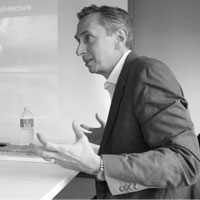 Chicago, IL (PRWEB) November 17, 2014
The Society of Architectural Historians (SAH) will hold its 68th Annual International Conference in Chicago, Illinois, from April 15–19, 2015, with the theme Chicago at the Global Crossroads. SAH will celebrate its 75th anniversary during the conference, which includes lectures, roundtables, and 36 paper sessions covering topics in architecture, art and architectural history, preservation, landscape architecture, and the built environment. SAH is committed to engaging both conference attendees and local participants with public programming that includes over 30 architectural tours, a plenary talk, and a half-day seminar addressing Chicago's waterways and neighborhoods. To view a complete schedule, visit sah.org/2015.
Notable Speakers
Blair Kamin – Introductory Talk
Chicago Tribune architecture critic Blair Kamin will open the conference with the talk, "Architecture Criticism: Dead or Alive." Kamin is the recipient of 35 awards, including the Pulitzer Prize for Criticism, which he received in 1999 for a body of work highlighted by a series of articles that addressed the challenged and opportunities of Chicago's lakefront.
Gwendolyn Wright – Plenary Talk – open to the public
Gwendolyn Wright, professor of architecture at Columbia University, will give the plenary talk "The Role of Play: Looking for Patterns and Crossing Boundaries." Wright is an award-winning architectural historian, author and host of the popular PBS series History Detectives. The plenary talk is presented in partnership with the Architecture & Design Society and will take place in the Rubloff Auditorium at the Art Institute of Chicago.
Charles Waldheim – Keynote Address
The conference's main public event, the Chicago Seminar, opens with a keynote address by Charles Waldheim, John E. Irving Professor of Landscape Architecture and Chair of the Department of Landscape Architecture at Harvard University Graduate School of Design. Waldheim has written extensively on the history and future of Chicago urbanism.
SAH Chicago Seminar – open to the public
The Chicago Seminar, Magnitudes of Change: Local Sites and Global Concerns in Chicago's Built Environment, is a half-day program that brings together conference attendees and local participants. Two panel discussions will address the history and future of Chicago waterways and issues of community and preservation in Chicago neighborhoods. Panelists include: Jeanne Gang, Studio Gang Architects; Martin Felsen, UrbanLab and Illinois Institute of Technology; Carol Ross Barney, Ross Barney Architects, Debra Shore, Metropolitan Water Reclamation District; Robert Bruegmann, University of Illinois at Chicago; Patricia Saldaña Natke, UrbanWorks; and Alaina Harkness, MacArthur Foundation. Alison Fisher, Harold and Margot Schiff Assistant Curator of Architecture at the Art Institute of Chicago, will serve as moderator. The program is funded by a grant from the Graham Foundation for Advanced Studies in Fine Arts and will take place at the Buchanan Chapel in the Gratz Center, 126 E. Chestnut St.
Architecture Tours – open to the public
More than 30 guided tours of Chicago's architecture and landscapes will be available for conference attendees and the general public to attend. Led by leaders in the fields of architecture, architectural history and preservation, these tours give visitors and residents alike a chance to explore the city and learn from local experts. See tour listing below.
SAH 75th Anniversary
SAH will celebrate the 75th anniversary of its founding during the conference with a party at The Rookery, Daniel Burnham and John Wellborn Root's 1888 landmark that was renovated by Frank Lloyd Wright in 1905. The event is co-sponsored by the Frank Lloyd Wright Trust and the Vernacular Architecture Forum.
Paper Sessions
Thirty-six paper sessions featuring 183 speakers from across the globe will explore the history of the built environment from antiquity to the critical present. Global-local topics span from "Industrial Landscapes and Heritage: A Global Examination" to "Vernacular Chicago: Architecture in the City of Broad Shoulders" and "Environmental Technologies in History: Chicago's Role." View paper sessions at bit.ly/2015sessions.
Registration
Early registration opens on January 6, 2015. Registration rates increase on February 16, 2015. View registration rates and information at sah.org/2015/registration.
SAH 68th Annual International Conference Information
Location: Holiday Inn Chicago Mart Plaza River North, 350 West Mart Center Dr., Chicago, Illinois
Dates: April 15–19, 2015
Conference App: Download at guidebook.com/g/SAH2015
Co-Chairs: Ken Tadashi Oshima, SAH 1st Vice President, professor in the Department of Architecture at University of Washington; Alison Fisher, Harold and Margot Schiff Assistant Curator of Architecture at the Art Institute of Chicago
AIA CES Learning Units LU/HSW: SAH is registered with the American Institute of Architects Continuing Education system (AIA CES) to provide learning units for participation in various events at the Annual Conference, including paper sessions, tours, roundtable discussions, and the SAH Chicago Seminar.
Tours – open to the public
(Public registration for tours opens on February 16, 2015. Visit sah.org/2015/tours for more information.)
TR1 Aqua Tower
TR2 Sacred Spaces in the Loop: St. Peter's Church and the Loop Synagogue
TR3 Spectacular Interiors of the Chicago Cultural Center and Monroe Buildings
TR4 Art Deco Skyscraper Interiors
TR5 Chicago's Moveable Bridges
TR6 Cutting-Edge Adaptive Reuse: The Chicago Athletics Association Hotel
TR7 Chicago School Skyscrapers on South Dearborn Street
TR8 The Architecture and Adaptive Re-use of Louis Sullivan's Carson Pirie Scott Building
TR9 Sacred Spaces in the Loop: First United Methodist Church in the Chicago Temple Building
TR10 Recent Skyscrapers on North-South Wacker Drive
TR11 Gateway to North Michigan Avenue
TR12 Spectacular Interiors of the Chicago Cultural Center and Monroe Buildings
TR13 Art Deco Skyscraper Interiors
TR14 Chicago's Moveable Bridges
TR15 The Architecture and Adaptive Re-use of Louis Sullivan's Carson Pirie Scott Building
TR16 Restoration of the Rookery Building
TR17 Tour of the Chinatown Neighborhood
TR18 Pilsen: The Heart of Chicago
TR19 Albert G. Lane and Carl Schurz High Schools
TR20 The Near South Side: Mansions, Motor Row, and McCormick Place
TR21 Walter Netsch and UIC
TR22 606 Urban Park (pre-opening tour)
TR23 Provocative New Architecture in Chicago: The Work of JGMA
TR24 Mid-Century Modern Residential Design in Chicago's South Suburbs
TR25 Urban Redevelopment in Chicago's Uptown Community
TR26 Wright's Ravine Bluffs Development and Glasner House
TR27 SC Johnson Administration Building, Research Tower and Wingspread
TR28 Chicago's Public Housing
TR29 Dearborn Street: A Microcosm of Chicago Urban Development
TR30 Country Estate Architecture in Lake Forest
TR31 Does Award-Winning Design Make a Difference? Case Studies in Chicago
TR32 Wright and Beyond: A Tour of Oak Park, River Forest, and Riverside
TR33 Pullman: America's First Planned Company Town
TR34 Mid-Century Modernism on the River
Sponsors
The Art Institute of Chicago
Graham Foundation for Advanced Studies in the Fine Arts
Vernacular Architecture Forum Chicago
University of California Press
Partners
AIA Chicago
Archeworks
Art Institute of Chicago
Association of Architecture Organizations
Chicago Architecture Foundation
Chicago Detours
Construction History Society of America
DePaul University, Art History Department
The Ernest Hemingway Foundation of Oak Park
Evanston History Center
Frank Lloyd Wright Building Conservancy
Frank Lloyd Wright Trust
Glessner House Museum
Graham Foundation for Advanced Studies in the Fine Arts
Illinois Institute of Technology
Landmarks Illinois
Pleasant Home Foundation
UIC Jane Addams Hull-House Museum
University of Chicago, Art History Department
Vernacular Architecture Forum Chicago
About SAH
Founded in 1940, the Society of Architectural Historians is a nonprofit membership organization that promotes the study, interpretation and conservation of architecture, design, landscapes and urbanism worldwide. SAH serves a network of local, national and international institutions and individuals who, by vocation or avocation, focus on the built environment and its role in shaping contemporary life. SAH promotes meaningful public engagement with the history of the built environment through advocacy efforts, print and online publications, and local, national and international programs. Learn more at sah.org.