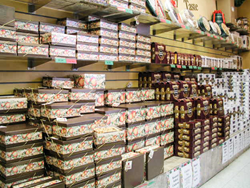 We say we can coat any nut in any flavor, and this year, customers will get to sample before deciding.
Arlington, Texas (PRWEB) November 19, 2014
A unique holiday store is now open for tasting. It is unique because for the first time this year, GreatNuts.com will open a brick and mortar seasonal holiday factory store.
"This year, we are celebrating our 25th year, so we're pulling out the taste-testing stops and letting customers taste their way through the store," says Kim Peacock, owner of GreatNuts.com.
Everything from southern nut candies, chocolate toffee almonds, orange pecans, cinnamon almonds and trail mixes will be on display through the holiday season.
"We say we can coat any nut in any flavor, and, this year, customers will get to sample before deciding."
"This year, we are featuring, 'Manager's Mistakes,' which are items that will be priced at break-even. These will be freshly and properly made items; it's just that we made too much," says Peacock. GreatNuts.com will also have discontinued gift containers, priced at the company's cost. In addition to its deeply discounted factory-priced items, the store will also carry some of its traditional best-seller items, such as its Giant Wheel and Good as Gold gift tin.
Customers will be able to walk out of the store with their purchases or choose to have them conveniently shipped to their office or to their gift recipients in time for the holidays.
The store is open November 17 through December 23rd. For store location and hours, please visit: http://www.greatnuts.com/contact-us/
About GNS Foods:
GNS Foods has been processing freshly roasted nuts, snack mixes and nut candies in its production plant in Dallas/Fort Worth, Texas for 25 years. As a national importer, roaster, processor and manufacturer, GNS annually now processes and sells more than four million pounds of nuts, snacks and confections to major retail chains, hotels, airlines, specialty food direct marketers and other businesses worldwide. GNS Foods is certified woman-owned business and is proud of its record as an Equal Opportunity Employer.
To learn more about GNS Foods, visit its consumer retail site at http://www.greatnuts.com or its corporate wholesale site at http://www.gnsfoods.com.