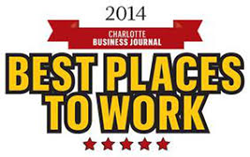 I strongly believe that our rapid growth and ability to create cutting edge technology is directly correlated to our ability to acquire, and maintain, top talent. - Michael Praeger, AvidXchange CEO
Charlotte, NC (PRWEB) November 18, 2014
AvidXchange, a leading provider of AP and payment automation solutions, was named as the #2 Mid-Size Software Company to work for in Charlotte by the Charlotte Business Journal at the Best Places to Work awards dinner Thursday at the Charlotte Convention Center. The Charlotte Business Journal selects the winners for their Best Places to Work Award based on a combination of criteria that span from community involvement to employee perks, and an anonymous survey that is completed internally by each company's employees. AvidXchange has received the award six years in a row.
"I strongly believe that our rapid growth and ability to create cutting edge technology is directly correlated to our ability to acquire, and maintain, top talent," states Michael Praeger, CEO and Co-Founder of AvidXchange. "It's such an honor to receive this award from the Charlotte Business Journal for 6 years in a row, because it is an achievement that reflects our success with creating an atmosphere that provides our employees with opportunities to learn, grow, and advance," added Praeger.
AvidXchange provides employees with a variety of social and educational events to foster an environment of innovation, collaboration, team building, and development, such as the following:

Quarterly company off-site town hall luncheons
Quarterly department off-site outings
Regular company-funded professional development opportunities & "innovation" days
Company-supported time off for volunteering with AvidFoundation, AvidXchange's community service organization, as well as other local non-profits
"AvidXchange has allowed me to grow as the company has grown," said company employee, Christopher Elmore, who has been with the company for more than 14 years. "With the company so vested in my personal growth, I can't ever imagine myself anywhere else," added Elmore.
AvidXchange provides a robust benefits package that includes monthly allowances, which are above the industry averages, for medical, dental and life insurance, as well as a 401K matching plan and stock options. With AvidXchange's emphasis on work/life balance, it also offers a very generous personal-time-off package. AvidXchange recently announced its plans to hire over 600 workers by the end of 2018. Inc. Magazine ranked it the 20th fastest-growing company in the Charlotte area, and No. 197 among the nation's fastest-growing software companies this year. To learn more about employment opportunities at AvidXchange, please visit: http://careers.avidxchange.com.
About AvidXchange
AvidXchange revolutionizes the way companies pay their bills. Accounts Payable automation increases control and visibility into the bill payment process to reduce processing time, allow early payment discounts and eliminate late fees. Automation eliminates paper by electronically capturing invoices, using intelligent business rules to route invoices for approval and storing all information electronically providing anytime, anywhere access to invoice status and history. AvidXchange makes it easy to automate and backs this great customer experience with a 45-day implementation guarantee. As the first SaaS technology vendor to automate invoice processing, AvidXchange works with suppliers to electronically send and receive all invoices through the AvidBill Network. Standard integration to more than 40 accounting systems speeds adoption and simplifies setup. AvidInvoice significantly reduces operating costs and improves productivity in a company's accounts payable department. AvidPay eliminates 100% of paper checks from company's payment processes, maintains vendor information and payment preferences, and facilitates payments for every invoice, every vendor, and every bank. Headquartered in Charlotte North Carolina, AvidXchange is privately held with over 300 employees nationwide. Contact us at 800.560.9305/ info(at)AvidXchange(dot)com