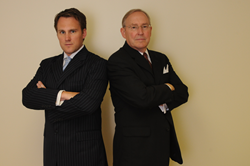 It is quite an honor to be named in the U.S. News & World Report as Best Lawyer's 2015 Best Law Firms.
Langhorne, Pennsylvania (PRWEB) November 19, 2014
The law firm Saile & Saile LLP has been named to U.S. News & World Report and Best Lawyers 2015 "Best Law Firms" list. Best Lawyers is an established and well respected attorney rating organization who states that "achieving a tiered ranking signals a unique combination of quality law practice and breadth of legal expertise."
According to Best Lawyers, the 2015 rankings are based on a record number of participating firms and client ballots, and signals their "unique combination of quality law practice and breadth of legal expertise." To be eligible for the ranking, Best Lawyers states that a firm must have a lawyer listed in The Best Lawyers in America, which recognizes the top 4% of practicing attorneys in the US. Over 17,000 lawyers provided almost 600,000 law firm assessments, and almost 7,500 clients provided more than 40,000 evaluations.
Michael J. Saile, Esq. has been practicing estate planning and administration for over thirty years and is the founding partner of Saile & Saile LLP. A 1976 graduate of Widener Law School, Mr. Saile attained an advanced law degree (L.L.M.) in taxation from Temple Law School. Michael J. Saile, Esq. is rated by Martindale Hubbell the highest possible AV status in skill and ethics by his peers, who include both local lawyers and judges.
Mr. Saile is a past president and a current active member of the Bucks County Estate Planning Council who also donates his time serving with Pennsylvania lawmakers on the Advisory Committee to the Pennsylvania Joint State Government Commission on Decedents' Estates Laws. He helped develop the new Pennsylvania Uniform Trust Act.
Michael L. Saile, Jr., Esq. began his legal career as a trial lawyer who represented personal injury victims and criminal defendants in New Jersey municipal courts. After two years of learning how to litigate, he joined his father to create Saile & Saile LLP. Since then, he has focused his practice in the areas of personal injury, DUI (driving under the influence), and traffic violations.
As an attorney under the age of 40, Mr. Saile exemplifies the superior qualifications required for the nod, including the highest levels of his clients' satisfaction, his track record of trial results, and proven community leadership.
Licensed for 10 years, Mr. Saile has been named multiple times a "Rising Star" by SuperLawyers.com. He has also been named multiple times as a Top 40 Under 40 attorney by the National Trial Lawyers Association, as well as one of the 2014 Top 40 Under 40 by the American Society of Legal Advocates (ASLA.) His "Superb" rating on Avvo.com, a professional ratings website, from both clients and peers speaks to his superior qualifications. Saile holds a position on the Board of Directors at TODAY, Inc., a community drug and alcohol rehabilitation program designed to be an alternative to incarceration.
Michael L. Saile, Jr., Esq. is a member of the Pennsylvania Association for Justice, the New Jersey Trial Lawyers Association, the American Association for Justice, and the Pennsylvania Bar Association.