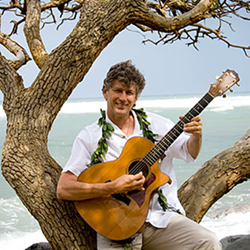 Petaluma, CA (PRWEB) November 19, 2014
Jim Kimo West is regarded as one of the world's foremost "ki ho'alu" or Hawaiian "slack key" guitarists. This warm and engaging acoustic guitar style has it's roots in 1840's Hawaii, when Mexican vaqueros first brought guitars to the Big Island of Hawaii. This great acoustic guitar tradition is showcased in the Oscar-winning film, "The Descendants".
Best known as long-time guitarist for the worldʻs most successful musical comedy artist, "Weird Al" Yankovic, Kimoʻs career has seen three Grammyʻs, many gold and platinum awards and most recently a Billboard #1 CD with their latest release, "Mandatory Fun". The album is the first comedy set to top the chart since 1963, and logs the largest sales week for a comedy album since 1994. The album has followed many national tours and TV appearances such as the Tonight Show, Late Night with Jimmy Fallon, The View, Craig Ferguson, Conan OʻBrien and many more.
Kimo is a 2008 winner of the Hawaii Music Awards and two-time Na Hoku Hanohano (the Hawaiian 'Grammy') nominee. He is also a two-time winner of the LA Treasures Award for his efforts in keeping this important acoustic guitar tradition alive.
Reunion Blues is proud to support Jim Kimo West, and welcome him to their growing family of artists.
For more information, please visit us at http://www.reunionblues.com