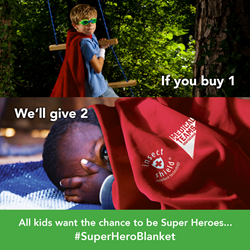 Seattle, WA and Greensboro, NC (PRWEB) November 18, 2014
Instead of a traditional buy one, get one free offer, Insect Shield is placing two protective blankets in the hands of a child in need for every purchase of one blanket online.
Insect Shield blankets offer built-in protection against mosquitoes, ticks and other dangerous insects that can carry diseases such as malaria, dengue fever and Lyme. The distribution of the blankets will be conducted by Insect Shield's partner, Medical Teams International, a global health organization that sends more than 200 volunteer teams each year to provide disaster relief and surgeries, as well as general medical and dental care for impoverished people worldwide.
According to the World Health Organization a child dies every minute from malaria in Africa and personal protection against mosquito bites represents the first line of defense for malaria prevention. Insect Shield repellent blankets, which offer built-in protection from mosquitoes and other disease-carrying insects, can help.
To purchase and find out more information visit:
Super Hero Blanket
#SuperHeroBlanket
In partnership with international relief organizations such as Medical Teams International and World Vision®, more than 44,000 Insect Shield Protection Blankets have been distributed to impoverished, malaria-risk areas such as Malawi, Mali, Niger, Rwanda, Uganda, Zambia, Cambodia, Philippines, Bolivia, Costa Rica, Haiti and Nicaragua.
Insect Shield Repellent Apparel and Gear are revolutionary products designed to provide long-lasting, effective and convenient personal insect protection. The durable protection provided by Insect Shield is the result of years of research and testing. In July 2003, Insect Shield Repellent Apparel was registered by the United States Environmental Protection Agency. Insect Shield Technology is utilized by leading lifestyle brands, work wear distributors and International relief organizations across the globe to provide effective protection against insects and the diseases they can carry. Insect Shield is an approved vendor of the US Army and US Marine Corps.
###