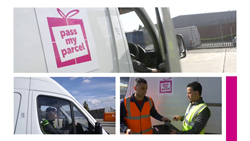 We had a vision for a new type of parcel delivery system, which would allow us to leverage our existing distribution and logistics expertise and provide a market-leading proposition.
Marlow, Bucks, UK (PRWEB UK) 18 November 2014
NetDespatch, the leading Software as a Service (SaaS) parcel data management platform and Blackbay, the leading provider of mobility-enabled solutions for the transport and logistics industry, today revealed that they have jointly provided the technology which powers 'Pass My Parcel', the new same day Click and Collect service from Smiths News, which has been selected by Amazon for its customers in the UK.
Announced in October, Pass My Parcel allows Amazon customers to place an order before 11am and collect at a location convenient to them until 8pm the same day, seven days per week. The parcels are being delivered by Smiths News, the UK's leading newspaper and magazine wholesaler using technology provided by NetDespatch's Click and Collect integration platform, in partnership with Blackbay's Delivery Connect software which provides complete visibility of goods throughout the entire collection and delivery process.
Marcus Cotes, IT Director at Smiths News, comments: "We are utilising our existing distribution network and infrastructure to provide same day and next morning distribution of Amazon parcels via our network of independent retailers operating as parcel shops. NetDespatch's platform has allowed us to receive delivery manifest data from Amazon, which is integrated with Blackbay's Delivery Connect software, to create a single view connecting the Amazon fulfilment centres, our distribution centres and drivers, up to 1,000 store pick up locations, and our internal billing and administration systems."
From point of collection through to 'last mile' delivery of parcels, Smiths News and Amazon have instant online visibility of all distribution centre, driver and in-store activity through data provided from Blackbay's Delivery Connect solution, which is deployed to handheld terminals used by both the Smiths News logistics staff and the retail stores. Parcels are scanned throughout their journey from the Amazon fulfilment centres to the Smiths News distribution centres, where they are allocated to van drivers to deliver them to their network of parcel shop retailers. They are then collected in-store by the Amazon customers who must present a pick-up code or barcode to complete the collection.
"We had a vision for a new type of parcel delivery system, which would allow us to leverage our existing distribution and logistics expertise and provide a market-leading proposition. We needed to get it to market very rapidly, and selected the joint NetDespatch / Blackbay proposition, as we were confident that they could support us in creating a seamless, integrated solution at pace," continued Cotes.
Nigel Doust, CEO, Blackbay comments: "Driven in part by the 'Amazon Effect' around home delivery, consumers now expect to have more control around when and how their goods are delivered, the challenge for everyone involved in retailing, shipping and logistics is how to up their game and offer collection and delivery solutions which provide choice and convenience. Working with NetDespatch, we are able to deliver innovative new services that do just that. Together we provide transport and logistics companies with an all-important competitive advantage – the ability to meet consumers' demands for first time, on time, every time deliveries. The Amazon and Smith News Pass My Parcel service is a perfect example."
Becky Clark, CEO, NetDespatch comments: "Between Blackbay and NetDespatch, over 15 million shipments are created, tracked and managed each day in the UK, Asia Pacific and North America Regions. The NetDespatch SaaS platforms provide proven, reliable and scalable solutions to get innovative parcel delivery propositions to market quickly, and then to scale with them. This is the reason that Smiths News chose our solution to deliver its Pass My Parcel service to Amazon."

About NetDespatch:
Founded in 1999 and headquartered in Marlow, NetDespatch is recognised as one of the top Cloud Computing providers in the UK, provides a Software as a Service (SaaS) shipping, tracking and systems integration platform for postal and parcel carriers worldwide. The platform currently enables carriers to provide more than 130,000 of their business customers with solutions to seamlessly integrate ecommerce websites, sales order processing and warehouse systems at point of despatch. Users can print the correct shipping labels, customs documentation and manifests, and automatically pre-advise their carrier of incoming parcels.
For more information http://www.netdespatch.com.
Or follow NetDespatch on Twitter @NetDespatch
About Blackbay:
Blackbay is the leading provider of mobility enabled solutions for the transport and logistics (T&L) industry. The company's configurable end-to-end products enable delivery companies to work smarter ensuring that they can provide a first time, on time, every time delivery. Using real-time data and automated workflows, Blackbay's solution connects the shipper, operations, management, the driver and crucially the customer, to help delivery companies offer the best possible delivery experience. Blackbay, headquartered in London, operates across APAC, EMEA and the USA, supporting over 145,000 drivers delivering in excess of 6 million deliveries per day.
For more information http://www.blackbay.com/
Or follow Blackbay on Twitter @BlackbayLtd
About Smiths News:
Smiths News is the UK's leading newspaper and magazine wholesaler
A leader in time sensitive logistics, serving 30,000 customers from 43 distribution centres across the UK. Smiths News' people, processes and technology make it the UK's number one wholesaler in the large newspaper and magazines market, categories with an annual value of £2.06bn and £3.3bn respectively.
Our customers include supermarkets, high street chains, independent retailers, petrol forecourts and home delivery networks.
No customer is too big or too small. Ranging from small independent retailers in remote locations, to the nation's biggest supermarkets, we deliver 364 days a year. We are proud to offer an efficient, friendly and professional service.
Smiths News has one of the world's largest SAP systems monitoring its entire network.
For more information about Pass My Parcel, please contact Rebecca Hedges, Trade Communications Executive on 01793 563927 or email: Rebecca.hedges@smithsnews.co.uk.