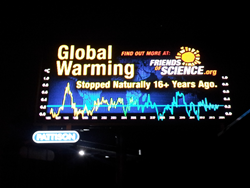 In that debate our people already predicted that the solar influence was greater than that of carbon dioxide. Now other scientists are saying the same thing
Calgary, Alberta (PRWEB) November 19, 2014
As an unexpected cold snap blankets the US, with more snow on the ground than usually falls by Christmas, according to NBC News, Friends of Science has launched its digital climate change billboard campaign again in selected cities across Canada.
The Friends say they want to remind people that the sun is the main direct and indirect driver of climate change, not carbon dioxide, as shown in their first billboard campaign reported on by Metro Edmonton on June 7, 2014.
In Ottawa, Canada, the Friends of Science campaign features a six second billboard stating that global warming stopped naturally more than 16 years ago (before Kyoto was ever ratified) a reprise of the Friends' campaign that had been reported in the Globe and Mail June 27, 2014.
Norm Kalmanovitch, P. Geoph. and resident science adviser for Friends of Science says, "The public need to know this. It was barely mentioned in the IPCC report. There is a visible decline on a graph, since 2002, of solar irradiance as reported by the World Radiation Center in Davos, Switzerland. Cooler sun? Cooler earth."
Friends of Science point to an evidence-based report entitled "The Global Warming - Extreme Weather Link" released in December 2013 written by another Friends of Science member and scientific adviser, Dr. Madhav Khandekar, a former Environment Canada research scientist, that confirms an uptick in unexpected cold snaps, but no other weather extremes.
As early as 2002, scientific advisers to Friends of Science were taking part in a published debate in the PEGG, the journal of the Association of Professional Engineers and Geoscientists of Alberta.
"In that debate our people already predicted that the solar influence was greater than that of carbon dioxide. Now other scientists are saying the same thing," he says, referring to Judith Curry's Jan. 16, 2014 testimony to the US Senate in which she said that carbon dioxide is likely not the 'knob' of climate variability and that natural factors are probably more influential than human ones.
"It is ludicrous that the IPCC still say we must 'save the world from global warming by reducing GHG emissions" – using the ideological premise of the Kyoto Accord when the evidence shows that the sun's irradiance is dropping, due to cyclical patterns observed over 400 years."
Kalmanovitch points out that "Since 1997 the world has spent over a trillion dollars on IPCC approved initiatives aimed at reducing CO2 emissions only to have global CO2 emissions increase from 24.3 billion tonnes in 1997 to over 35 billion tonnes today."
As early as Aug. 23, 2011 Forbes reported the US government was unable to calculate its vast climate change financial commitments.
"The initiatives did not work in the past and only wasted a trillion dollars for nothing," says Kalmanovitch, "The sun drives climate change - and we're in for global cooling, and unprepared."
As for the digital billboard campaign?
"We're on a beer budget up against the caviar set of the taxpayer-funded ENGO charities," says Kalmanovitch, "but we think the scientific evidence will win out."
About
Friends of Science have spent a decade reviewing a broad spectrum of literature on climate change and have concluded the sun is the main driver of climate change, not carbon dioxide (CO2). The core group of the Friends of Science is made up of retired earth and atmospheric scientists.
Contact:
Friends of Science Society
P.O. Box 23167, Mission P.O.
Calgary, Alberta
Canada T2S 3B1
Toll-free Telephone: 1-888-789-9597
Web: friendsofscience.org
E-mail: contact(at)friendsofscience(dot)org