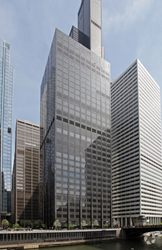 (PRWEB) November 18, 2014
Global commercial real estate services firm, Savills Studley represented Klein and Hoffman, Inc. in a full-floor 16,600 square foot lease renewal at 150 S. Wacker Drive.
Klein and Hoffman is a leader in architectural restoration and structural engineering solutions headquartered in Chicago, IL. Klein and Hoffman offers an interdisciplinary portfolio of building services including assessment, evaluation & planning, building envelope, existing structures, new structures, historic preservation and building enclosure commissioning. The company works with in wide array of markets including, residential, commercial, mixed-use, healthcare, education, government, parking structures, religious, institutional and industrial facilities.
Greg Gerber and Jake Ehrenberg of Savills Studley's Chicago office represented Klein and Hoffman in the transaction and Joe Alberts represented the landlord, Fulcrum Asset Advisors, LLC and Lincoln Property Company.
About Klein and Hoffman, Inc.
With offices in Chicago and Philadelphia, Klein and Hoffman offers over 60 years of creative solutions in the investigation, design, renewal, and preservation of the built environment. Our reputation as a client-focused organization is reflected in the number of returning clients and referrals we receive from partnerships established with owners, architects, developers, and other engineering firms.
About Savills Studley
Savills Studley is the leading commercial real estate services firm specializing in tenant representation. Founded in 1954, the firm pioneered the conflict-free business model of representing only tenants in their commercial real estate transactions. Today, supported by high quality market research and in-depth analysis, Savills Studley provides strategic real estate solutions to organizations across all industries. The firm's comprehensive commercial real estate platform includes brokerage, project management, capital markets, consulting and corporate services. With 25 offices in the U.S. and a heritage of innovation, Savills Studley is well known for tenacious client advocacy and exceptional service.
The firm is part of London-headquartered Savills plc, the premier global real estate service provider with over 27,000 professionals and over 600 locations around the world. Savills plc is listed on the London Stock Exchange (SVS.L).
For more information, please visit http://www.savills-studley.com and follow us on Twitter @SavillsStudley and LinkedIn.
# # #