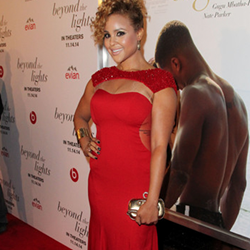 Luxury accessory brand Nicoli is making their presence felt throughout Hollywood in the hands of beautiful actresses such as Heather McComb, Hayley Marie Norman and singer Meghan Linsey.
Los Angeles, Dubai (PRWEB) November 19, 2014
As style watchers keep their eagle eyes on red carpet events and parties taking place with A-list attendees, it is very exciting to see lesser known brands such as Nicoli being chosen above some of the world's leading designers. For those out there who have never heard of the brand - Nicoli is an exclusive fashion accessory boutique based in Dubai, renowned for exquisitely handcrafted crystal embellished footwear, handbags, clutches and purses.
As with every other Award and Party Season, it is clear that just as carefully as stylists and celebrities select their gowns, they will also be poring over shoes and bags to help create looks that will hopefully grab headlines - and when it comes to red carpet accessories and standing out from the crowd, it's time for designers such as Nicoli to shine as seen on the red carpet in the beautiful hands of actresses such as Heather McComb, Hayley Marie Norman and singer Meghan Linsey.
As every woman who is use to dressing for formal events is aware, a stunning evening purse or clutch is the finishing touch – the accessory that can pull her look together without detracting from a show stopping gown. It is clear that this relatively new, up and coming brand understands how important it is for any woman attending a formal event to hit the right note between glamour, comfort and elegance - Nicoli's latest collections of shoes and clutches have been designed to compliment every style of gown from simple column sheaths to the frou frou avant-garde.
Continuing to be a big trend on runways and for fashion designers collections in 2014/15 are the wildly popular hard-case minaudiere clutches and Nicoli's sparkling collection epitomises this trend. Nicoli's stunning range of evening clutch styles feature the highest quality crystals inlaid in gold, silver, black or rose gold settings in a range of styles and patterns which are sure to add a touch of sparkle to any occasion.
 
Nicoli's latest collection of minaudiers include elegantly handcrafted organic patterns and animal prints, embellished with exclusive crystals, studded bows, skulls and flower clasps all with dramatic silk lining; the perfect compliment to more outré designs by the likes of Roberto Cavalli. For a more whimsical finishing touch, the fairytale-esque the Apple Clutch miniaudiere is available in gold and silver and is embellished with exclusively sourced crystals in an intricate pattern on its outer case.
Can't see the perfect clutch to compliment your gown? No problem. Similar to the countless bespoke gowns that grace the red carpet and after parties during the awards and party season, Nicoli's couture service will design the perfect bag / clutch or shoe to your own specification using the same craftsmanship and dedicated service as they do to create Nicoli's own exclusive lines.
 
Keep your eyes out for these ultimate NICOLI statement pieces on the red carpet in the coming months but in the meantime, would-be starlets can check out these and the very latest collection latest from Nicoli at http://www.nicolishoes.com